Nagpur: The Field Outreach Bureau (FOB), Govt. of India, Ministry of Information & Broadcasting, recently organized a rally and awareness programme under the banner of Special Outreach Programme on Swachh Bharat Mission at Maulana Abul Kalam Azad Urdu Middle School and Junior College in Ashi Nagar Zone 9. The main objective of the programme was to create awareness among the students about the cleanliness.
The event was attended among others by North Nagpur MLA Dr Milind Mane, Zone 9 Chairperson Vandana Chandekar, Assistant Commissioner Ganesh Rathod, Zilla Parishad's Dinesh Masodkar, Principal of Maulana Abul Kalam Azad Urdu Middle School and Junior College Nikhat Khan, and Field Outreach Bureau's Regional Field Publicity Officer Dr Manoj Sonone.
Speaking on the occasion, Dr Mane said, "Our country is beautiful from Kashmir to Kanyakumari. But due to uncleanliness, foreigners visiting India term the country 'dirty.' To change this image, everybody should start Swachh Bharat Abhiyan from his or her home itself and participate in the Prime Minister Narendra Modi's ambitious mission."
Zone 9 Chairperson Vandana Chandekar gave the message of 'Beti Bachao-Beti Padhao' along with cleanliness.
Giving example of Singapore, Dr Mane said, "In that country, people lift waste themselves even if littered by others. We should learn and implement as well such small but significant things from Singapore people. Cleanliness cannot be taught through speeches. Only actions can result in clean and beautiful country."
The Field Publicity Officer Dr Manoj Snone while welcoming the participants informed the gathering about the main objectives of the programme as well as Swachhta Action Plan and said that Clean India Mission (Swachh Bharat Abhiyan) is to make India Clean. He also said that cleanliness is a behaviour that will come gradually in our society, but we all have to make a plan and decide to contribute for cleanliness in a week to feel that it is an excellent contribution for our country.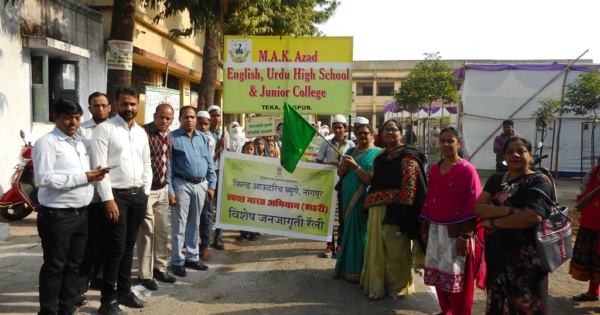 On the occasion of the special outreach campaign, various contests such as essay contest, drawing, Rangoli contest were organised. The winners of the contests were given prizes at the hands of the guests.
The programme was started with a mass awareness rally and a mass social service (Swachhta Shramdaan). The rally was flagged off by Principal Nikhat Khan. Employees of Zone 9, students and teachers of NMC's schools were present in large numbers.