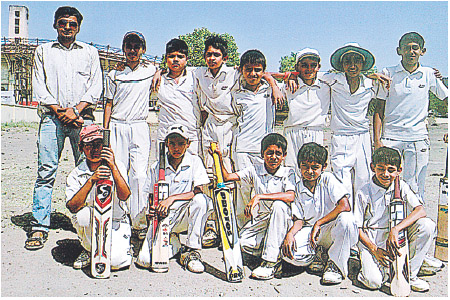 Nagpur News:
The Yashodadevi Karnewar Inter-Club Under-12 Tournament concluded with South Point Club defeating Pratap Nagar Krida Mandal by a narrow margin of 5 runs thus winning the coveted trophy.
The South Point Club scored 131 runs in their allotted 20 overs the major scorers being Amay Bhoyar (44) and Yash Sambre (32). In reply Pratap Nagar Krida Mandal almost reached the score but failed in their efforts due to brilliant bowling by Himanshu Mishra and Abhishek Senger by scalping 3 wickets each. Sahil Mohammad hit a rapid fire with 44 runs. Saket Patil also contributed 29 runs but the runs fell short of the target and the Pratap Nagar Krida Mandal lost the match by 5 runs only.
The tournament was jointly organized by Vidarbha Gymkhana and Nahatkar Sports Institue at NMV grounds.