Massive rally marks Dr Mohan Gaikwad's campaigning in South Nagpur

Nagpur News : Dr. Mohan Gaikwad (Patil), contender for the Nagpur Lok Sabha seat from the Bahujan Samaj Party today led a massive scooter rally as part of his election campaign. The rally began by offering floral garland to the statue of Hon'ble Dr. Babasaheb Ambedkar at Chandan Nagar and covered all of SouthNagpur.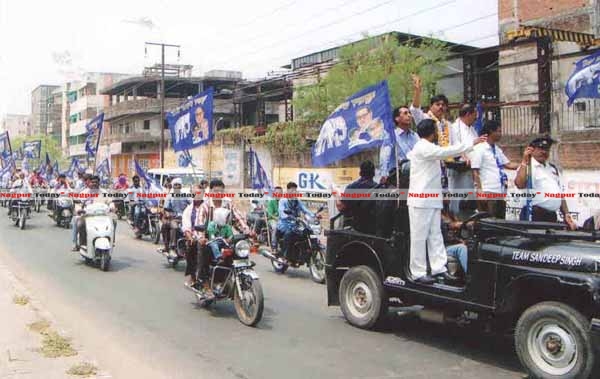 The rally was flagged off with the trademark blue flags by BSP District Office Secretary  Anand Somkuwar and Regional Vice-President  Krishnaji Bele, Media In-charge  Uttam Shewde] Dr. Gaikwad greeted his supporters who had thronged in thousands from an open jeep.
The rally coordinated by South Nagpur Coordinator and District Office Secretary  Anand Somkuwar , covered major areas like Chandan nagar , Vakil Peth , Somwari Qtr, Raghuji Nagar,Bhande Plot, Juna Sakkardara, Bidi Peth, Ashirwad Nagar, Mhalgi Nagar, Uday nagar, Vitthal nagar, Janki Nagar, Gurukunj Nagar, Vidnyan Nagar, Aakash Nagar, Manewada, Pariwartan Square ,Manewada Square, etc.
Among hundreds of scooterists, prominently present in the rally were,  Sahdev Pillewan, Sanjay Somkuwar, Mahipal Songole, Mrs. Surekha Dongare, Mrs. Revati Gaikwad,  Balchandra Jagtap,  Vinod Gaikwad,  Sanjay Shinde ,  Kiran Khode,  Ajay Sawarkar,  Prashant Choudhary,  Sachin Fukat,  Pradeep Narayan,  Amol Kolhe,  Prafful Deo,  Sunil Shende and  Ashish Motwani. The hurrahs and cheers of the supporters acclaims the growing popularity of the young and dynamic emerging Educationist cum Politician Dr. Mohan Gaikwad.