Man who conned jobless youths arrested

Police officials arrest those who just pushed the accused for duping them.
Nagpur Today: What will happen when you see the trickster, who duped you into giving him lakhs of rupees after a long time? Having given the trickster the money, you had to borrow money on interest for urgent needs, and money lenders visit you daily demanding money at your door step. In such a situation, when one fine day, you see the trickster, the pent up anger for having borne all insults and problems from money lenders gives way to maniacal and murderous rage. Logic doesn't work at that particular moment.
The tricksters Marotrao Ganpatrao  Ghorlewar aged 45 yrs, and a resident of Ekta Colony, Jadhav Nagar, Teka Naka who has many cases registered against him in many police stations in many cities in Maharashtra and India, having almost the same modus operandi of collecting huge sums of money from unemployed youth for getting jobs.
First he notices some contract or Government notice of vacancies in government department. One such advertisement that he saw was that on Food Corporation of India (FCI). He begins the fraud by placing advertisements in leading News Papers replacing the address and phone number with that of his own.
When unsuspecting unemployed youth contact him over phone or meet him at some rendezvous point, he impresses the youth with certificates of Food Corporation of India, photographs of him with the Chief Minister, partnership of Purti Sugar Industry, etc. He calls himself as the Director of FCI. Most youth gets hoodwinked by his cock and bull stories.
However, once the youth request for a job he presents a rate card.
For the job of Peon the rate is Rs 3 Lakhs.
For the job of Clerk the rate is Rs 5 Lakhs.
For the job of Senior or Head Clerk the rate is Rs 6 Lakhs.
For the job of Class II Officer the rate is Rs 15 Lakhs.
He somehow convinces the youth that it is a first come, first serve basis. One who gives money immediately will get the job. In order to convince the candidates, he says, "If you trust me, you give me the money, if not somebody else will give and get the job. I don't want people who don't trust me". He also cites fake examples and instances of recently I helped 50 people get into Indorama, or some other reputed Company or Government agency. People also fall into his trap and bring money and give it to him for which he issues no receipts. He convinces those who give money to bring more people from their relations or friends. These gullible youth then bring more youth to fall prey to this trickster. He has been doing this kind of duping at many other places too where thousands were cheated. Sources say that he has duped youth from Pusad, All Talukas of Amravati, Chandrapur, MP, Akola, and other states.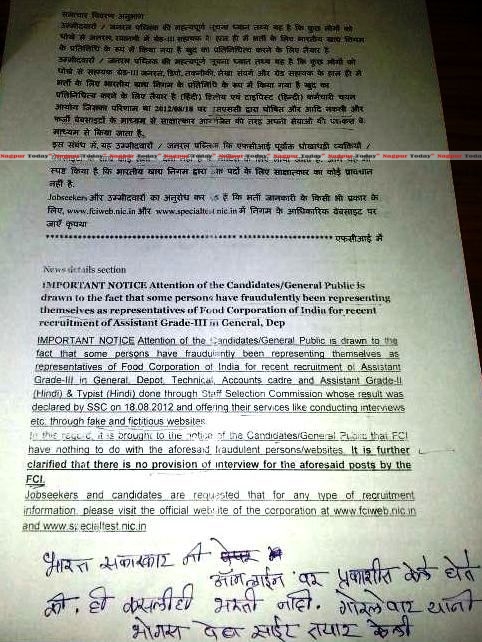 Cases are registered at many places against this trickster. However, at many places, cases are registered against some of the middlemen whom he uses cleverly to get more people.
Last year in a similar case of duping many youth, a case  has been registered against Marotrao Ganpatrao  Ghorlewar. He had duped youths to a total of Rs 18 lakhs. The Gittikhadan police have been searching for him from last year. He tried to get an anticipatory bail from District Court. When his application for anticipatory bail was turned down, he approached the Nagpur Bench of Bombay High Court, which again got rejected. He somehow, escaped from the clutches of Gittikhadan Police station and has been on the run.
Recently he had convinced some youth that there is job at Food Corporation of India and had asked the youth to deposit money for the jobs. He had even convinced the youth that they will get loans against the money deposited since this is a new scheme of government, many do not know about this. He had collected money amounting to Rs 54 Lakhs. The victims were identified as Ranjana Kamble, Milind Deorao Kamble, Pankaj Premdas Rangari, Chandari Namki Bai, Amol Fulzule, Channa Yeshwant Ramteke, Rekha Suraj Gajkate, Sarika Dondbhaji Gondane, Chirag Milind Kamde, Kamal Karji Damre, Meshram Gajbiye, Kartik Manre, Yogesh Meshram, Mayabai Borkar, Santoshi Dube, Sangeeta Chandrika Pure.
He had asked all these people to reach Mumbai on December 22, 2012 by Duronto Express. When these youth were travelling, they found nearly 75-80 youths going to Mumbai. Some were even accompanied by their parents. Marotrao Ganpatrao  Ghorlewar was repeatedly ringing these people and asking them not to speak to anyone else since they will only land in problem since they have paid less than others. Therefore most candidates kept silent, while others did blurt out the truth.
The next morning, after everyone got freshened up and reached near FCI office, he gave a call to some of the candidates and told them not to go to FCI office, since the police is waiting for them there He gave a cock-and-bull story again saying that the person to whom he had given money to be deposited in FCI turned out to be fraud and that he has escaped with all the money. He asked not to tell anyone that they have given money for jobs. He frightened them saying that if they go inside FCI, the police will sieze all their certificates and will put them in jail. Most youth believed him and returned back to Nagpur.
After returning on March 2013, some of the victims got a phone call and when they went to meet him, he said and convinced them that he has already registered a case against the money who had taken money from him with the Mumbai Police. He even showed a complaint with the rubber stamp of Mumbai Crime Branch, Office of Police Commissioner, Mumbai etc. He gave the number of the complaint as No 2169/2013. (which proved to be fake).
When some of the victims said that they don't want the job now, they just want the money back, If not they are going to get him arrested. To which he calmly threatened that, if I go to jail, so will you since you did not have any proof of giving any money to me. And most of the other victims were brought by you and you had collected money from them.
On April 14, 2013 on Sunday, Lokmat Hello Nagpur on Page 3, a news was published, where a similar case was published, under the title "Innocent youth duped by trickster for providing jobs" in Marathi. Cases were registered under sections 420, 467, 471 of IPC, 2005 of Cyber Crime section 66. At that time Marotrao Ganpatrao  Ghorlewar was staying in Kamptee. After some time, he vacated the house, and went into hiding. He had closed all offices, houses etc. He shifted his residence to Ekta Colony in Yadav Nagar.
After some days, one of the victims got a call saying that I have been victimized, and I have not received my money back. When Ranjana and Milind (two victims) somehow traced his house and went to his house in Ekta Colony, first he ordered the dog to attack them which pounced on Ranjana. Marotrao Ganpatrao  Ghorlewar's son Bunty Marotrao Ghorlewar, with a big stick, Marotrao Ganpatrao  Ghorlewar with a knife, wife Kalpana Marotrao Ghorlewar, daughter Payal Marotrao, daughter's husband and cousin brother of Marotrao Ganpatrao  Ghorlewar who is a retired police man threatened them saying do what you want, we are not going to give your money, if you come agains asking for money, we'll kill you. Etc. However, when these two victims related the incident to other victims, they all gathered to go again to their house the next day. However, by the time they reached there the trickster and his family had escaped from there. Some say that he got his daughter married off, with some of the money. He had given some money to his wife Kalpana to run BC, he had bought some plots in Hudkeshwar and Hingna and some of the money he had kept with his cousin the retired policeman.
When the victims got fed up, they became ready to face any problem. They consulted some social workers like Central President of Human Rights Organization Balasaheb Meshram, Disrict Chief of MNS Kishore Saraikar, Vidarbha President of Human Rights Organization Sohail Khan and Social worker Arvind Bamborde, some policemen and lawyers. They adviced the victims that they may never get the money back, however  by complaining other innocent people may not fall prey to his nefarious activities.
This entire incident took one year, and Marotrao Ganpatrao  Ghorlewar was still underground. Many similar case came to fore.
About three days ago, he had given a similar advertisement in a reputed Newspaper about jobs in Reliance company. He had provided his name and phone number too.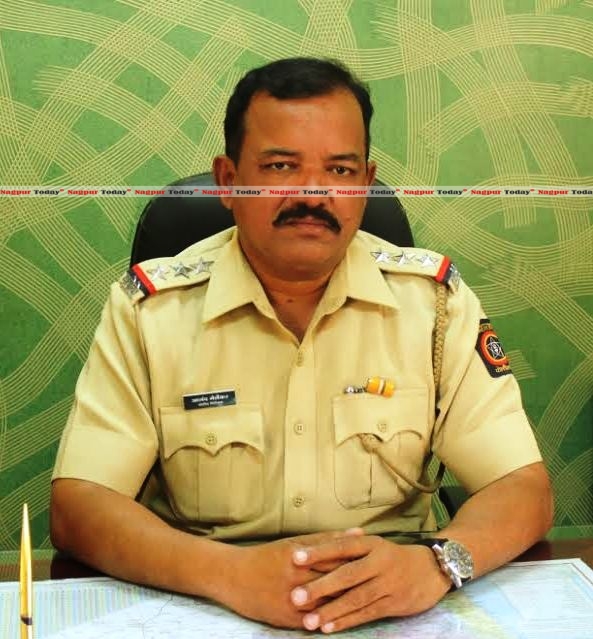 One of the victim, changing his name called up and asked about the job. He was told that the job will require him to pay 2 lakhs. He expressed his inability to pay 2 lakhs instead offered to pay one and half lakhs. Marotrao Ganpatrao  Ghorlewar agreed and asked him to come to Nagpur. The candidate said that Since he is from Akola, he does not know any place in Nagpur so asked Ghorlewar to come to railway station. Ghorlewar asked him to come to Cotton Market exit of the railway station. However, here he was in for a surprise since Central President of Human Rights Organization Balasaheb Meshram, Disrict Chief of MNS Kishore Saraikar, Vidarbha President of Human Rights Organization Sohail Khan and Social worker Arvind Bamborde, their staff, the victims totally around 70 people were waiting for Central President of Human Rights Organization Balasaheb Meshram, Disrict Chief of MNS Kishore Saraikar, Vidarbha President of Human Rights Organization Sohail Khan and Social worker Arvind Bamborde. When he arrived here, he came on his Hero Honda Splendour with a Helmet that covers in the entire head so that no one recognizes him. He came along with his keep called Pooja Dakate. As soon as he stopped, he was surrounded from all directions and some of the youth had slapped him. Balasaheb Meshram, Kishore Saraikar, Arvind Bamborde and Nagpur Today Crime Reporter prevented the victims from taking law into their hands and took him to Imambada Police Station. There Police Station In-charge of Imambada Police Station PI Nerlekar thanked these social workers and officials of NGO and Nagpur Today Reporter for bringing a habitual offender to books. He assured of taking proper action. He immediately presented Ghorlewar to court and got 6 days PCR. He has requested every victim of Ghorlewar to come forward and lodge their complaints with Imambada police Station. He has given his mobile number which is 9922001785 and the Imambada Police Station land-line number 0712-2743088 and 0712-2706343.