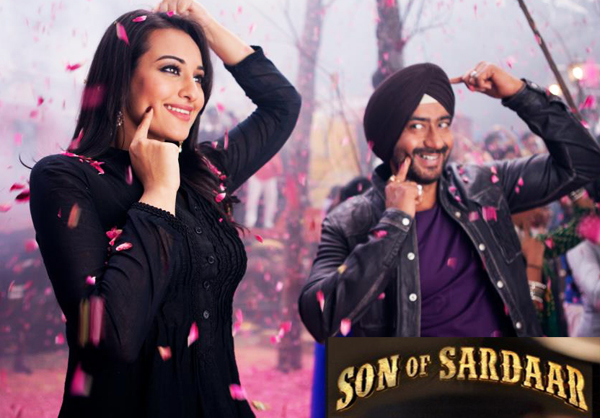 Directed by       Ashwni Dhir

Produced by    Ajay Devgn, N.R.Pachisia, Pravin Talreja

Screenplay by    Robin Bhatt, Ashwni Dhir

Based on    Maryada Ramanna , S. S. Rajamouli
Starring    Ajay Devgn
Sonakshi Sinha
Sanjay Dutt
Juhi Chawla
Mukul Dev
Vindu Dara Singh
Music by    Himesh Reshammiya
Studio    Ajay Devgn films and YRV Infra Media
Distributed by    Viacom 18 Motion Pictures and Eros International
Release date     November 13, 2012
Nagpur Today Review : Lets go and chill out in our nearest cinema theatres sof SOS.Son Of Sardaar opens with Ajay Devgan's bone-crunching fight scene in a club. In a guest appearance in the film, Salman Khan packs a few punches for his sardar friend and warns the goons, "Pathan ke yaar ke saath panga mat lena." There's a certain smugness in this whole sequence that pervades the entire movie and proves Sallu bhai really wrong.On the face of it, its easy to dismiss Son of  Sardar as another one of those movies that flatter to deceive.
The plot seems thin, the comedy overdone, and the logic, amongst many other things missing. But I am going to say that this movie has actually got it right. It might not be a super hit, but definitely is going to rake it in at the box office.To judge a movie, its important to first understand the audience for whom said movie is catered to.
Contrary to my expectations that this will be an action-packed movie, Son of Sardar, instead draws its strength from the many comic dialogues and sequences that are littered across the script.
Even the heavy scenes, where most hindi movies burst into the dhoom dhmaka of powerful dialogues and action sequences have been quoted with a liberal dosage of humor, so much that i am tempted to say this is a Comedy movie with bits of action, and not the other way around!The main characters of the movie, Ajay Devgn, and Sanjay Dutt do justice to their roles.
Though not very demanding in terms of emotion or action, both played their roles to perfection. Sanjay Dutt was exceptionally good playing the role of the local goon  ferocious and powerful, and yet at the same time a man of character! Ajay Devgan was entertaining and full of energy in his portrayal of a young sardar coming to terms with the situation he has gotten himself into.
Sonakshi Sinha seems like an actress full of potential, but unfortunately the movie and her role in it dont give her much of a stage to showcase her abilities. Juhi Chawla plays a cute and adorable character who brings out the best in Sanjay Dutt's character!The excessive promotion on television, and a guest appearance by you know was surely something that was engineered especially for the masses. But the question is, is that going to be enough?
There is a whole of lot of competition out there in the movies this week, and if the empty seats for the first day, first show is anything to go by Son or Sardar is already playing catch up!
The music is a mixed bag, Bichdann is easily the best song in the film. Cinematography is good. A few dialogues are good.
All actors have done their part very well, but it is Mukul Dev as a drunkard who stands out. Ajay Devgn is good, but not brilliant. Sonakshi Sinha seems to be repeating her role in Dabangg and Rowdy Rathore. She is undoubtedly a very talented actress, but must try and avoid being stereotyped. Tanuja and Juhi Chawla are two other stars who stand out. They are outstanding.
Overall, Son Of Sardar will work with it's target audience. It has a few laughs, one good song, decent performances and unrealistic action. Looking for a story, an iota of sense or something different? Don't bother.
Suhani Vanjani