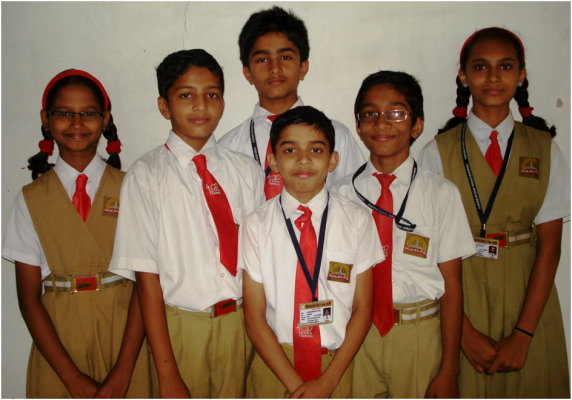 Nagpur News : Somalwlar Nikalas U/14 Boys Table-Tennis Team & U/14 Girls Shravani Dhakale and Ketki Fadnavis are selected to represent Nagpur City at the Divisional Level DSO Table-Tennis Tournament at Bhandara
Table-Tennis players of Somalwar Nikalas under the leadership of Anshuman Naik clinch the title of U/14 DSO City Level Boys Table-Tennis tournament 2012-13 organised by District Sports Office Nagpur and got selected to represent Nagpur City at the Divisional Level Table-Tennis Tournament scheduleld at Bhandara on Monday, 22nd October 2012.
Nikalas team won their Semi-Final match against CDS Schoo by 3-0 and Final 3-2 against Centre Point School Katol Road where the battle went upto the fifth match and that too into the 5th set. Here Rugved Teleng a student of std. 5th who lost in his first match vs. Nanyan  Taori uses his all experience to won the 5th set  11-7 to claim the title. ( The Score was 11-9,2-11,11-9,10-12,11-7 ). In the final Nikalas was 0-1 after the first match Anshuman Naik make it 1-1 and the Piyush Lulu 2-1 but Anshuman lost the 4th match and it makes the score 2-2 that took the game in the 5th Match.The Team Members were Anshuman Naik, Piyush Lulu, Rugved Telang, Charudutta Chavan & Yash Khare.  It was a wonderful combination of all team members that bring the victory in their hand.
In the U/14Girls category we lost marginally in the Semi-Final and secured 3rd position. From this team Shravani Dakhale and Ketki Fadnavis got selected with 1st & 2nd place to represent Nagpur City at the Divisional Level Table-Tennis selection Trials scheduleld at Bhandara on Tuesday, 23rd October  2012.
Shri Prakash Somalwar, Secretary Somalwar Academy, Shri  Vivek Joshi, Asstt. H. M. Somalwar Nikalas, all the Teaching and Non-Teaching Staff of Somalwar Nikalas congratulate the above players for their achievement and wish them good luck for their coming endeavour.