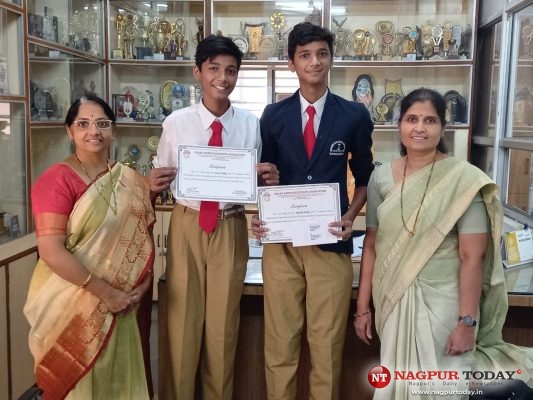 Nagpur: The number of Social Media Users in the country is increasing at fast pace day by day. At the same time, communication gap between families and society is widening. The personal communication in the family has been hit hard. As a result, stress, depression and sense of insecurity is gripping the people.
This fact was revealed in a study conducted by two students Somalwar High School, Ramdaspeth. The two students – Kanishka Dubey (Class IX) and Arastu Dubey (Class VIII) presented their research in the Research Survey Study organised by Indian Women Scientists Association (Nagpur Chapter). The two students had conducted their study on the effects of social media on communication in a family in the contest themed on Social Media and Communication. After their study, Kanishka and Arastu Dubey presented the outcome to the jury of the Association. Several students from various schools of districts of Nagpur and Vidarbha took part in the contest.
In the recently declared results of the contest, Kanishka and Arastu Dubey bagged the first prize for their research. The School Principal Vaishali Dakhole, Science Teacher and Guide Pradnya Kali and other teachers congratulated the two students for their achievement.
Kanishka and Arastu Dubey said that they included the students studying in schools and colleges as well as people associated with various businesses and profession. Youths, housewives and elderly persons were also included in the research. All these people were using social media for three or more hours daily. For the research, the two students had prepared a survey form in which 10 questions were asked. The conclusion was based on analysis of the answers.