Maximum 45,342 online permits for foreign and country liquor were issued between April 2019 and December 16 this year.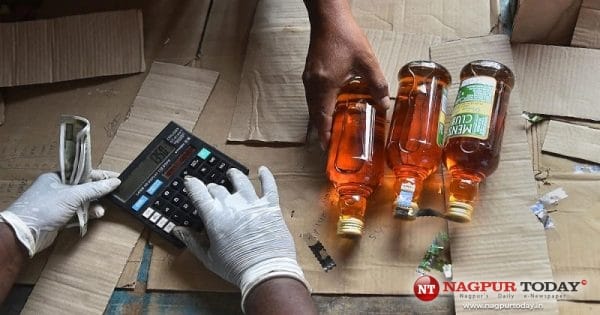 Nagpur: In a sort of dubious distinction, Nagpur topped the chart in the State in issuing online permits for liquor consumption between April 2019 and December 16 this year. The State Excise Department has issued a maximum 45,342 online permits for foreign and country liquor in Nagpur during the period, generating revenue to the tune of over Rs 2 crore. These permits were issued for either one year or lifetime. Another 1,096 applications are pending.
In Mumbai city, 15,692 permits were issued and 29,650 for Mumbai suburban during the period between April 2019 and December 16 this year.
During the lockdown, legal permits for home delivery of liquor were mandatory. This compulsion seemed to have catapulted Nagpur district to the top slot in the state in procuring online permissions for purchasing, consumption, possession and transport. Sources said the State Excise Department enforced the norms to the maximum extent in Nagpur, which contributed to the issuance of a high number of permits.
However, though less than Nagpur in number of permits issued, Mumbai suburban generated more revenue for the State exchequer (Rs 2.29 crore). An official said Mumbai suburban is likely to have more lifetime permits with higher chargeable fees (Rs 1,000) than Nagpur.
According to an official of State Excise, a pattern of 'indirect' awareness campaigning and enforcement policy was followed in Nagpur. The liquor retailers and bar owners were directed to encourage liquor customers to seek licence which can be procured from home itself. The licence holders were told to deliver, supply and sale liquor to only permit holders or face actions under 'breach' of licence conditions, said the official, adding that the applications were processed quickly.
The strict norms of the home delivery system during the lockdown played a crucial role in Nagpur district filing maximum number of applications in the state. Another official said aggressive awareness campaigns among the stakeholders also went a long way in getting the highest number of applicants for permits. A large number of one-day permits (almost 5,000) through shops and bars, were issued.