SNDL bill payment van service received warm acceptance from consumers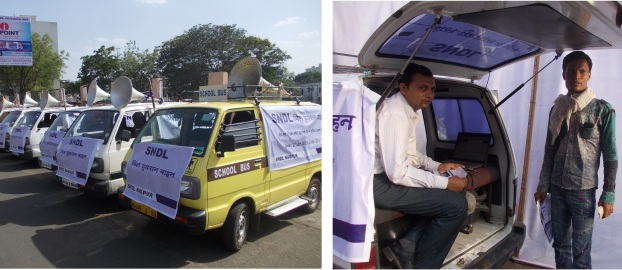 Nagpur News:
Spanco Nagpur Discom Limited (SNDL), the Power Distribution Franchisee (DF) for the three zones of Gandhibagh, Mahal and Civil Lines, with continuing its innovative efforts to provide  superior consumer service and experience is starting "SNDL bill payment vans" for payment of electricity bills in various areas of Nagpur DF.
SNDL is making all its best efforts to resolve the problems of the consumers who have either missed there prompt payment date or bill payment due date in this month due to late receipt or non receipt of the bills. Further, SNDL is providing a one stop window for the consumers (in case of non receipt of the bills) to collect duplicate bills and can also make payments at these bill payment vans. SNDL urges to consumers to avail benefit of this latest facility to avoid delays in bill payments. Today 5 bill payment vans have been deployed at Jaripatka (Patankar Chowk), Teka Naka (Nayi Basti), Narendra Nagar (Near TVS Showroom), Wathoda Ring Road (Near Swaminarayan Mandir) & Jagnath Budhwari (Bharat Mata Chowk). Consumers in these areas had welcomed the new initiative from SNDL and walking in with enquiries & paying bills at these bill payment vans.
These vans will be visiting various areas in the DF , as per the schedule below :
DATE
ZONE
AREA
LOCATION
TIMING
28.4.13
LASHKARIBAG
JARIPATKA

Patankar chowk
Nara Village

1.00 PM – 4:00 PM
4:15 PM – 6:00 PM
28.4.13

CIVIL LINES

MANKAPUR

Godhni
Takli Square

9.00 AM – 1:00 PM
2:00 PM – 6:00 PM
28.4.13
NANDANWAN
SUTGIRNI

Taj bag
Sakkardara Square

9.00 AM – 1:00 PM
2:00 PM – 6:00 PM
28.4.13
LASHKARIBAG
NARA

Taxshila Nagar
Samta Nagar

9.00 AM – 1:00 PM
2:00 PM – 6:00 PM
28.4.13
TULSIBAG

ST STAND

S.T Stand Sub station

9.00 AM – 1:00 PM
2:00 PM – 6:00 PM
28.4.13
GANDHIBAG

PARDI

Bhawani Nagar Punapur Rd.

9.00 AM – 1:00 PM
2:00 PM – 6:00 PM
29.4.13
CIVIL LINES

KATOL RD

ChobeKatiya
Palloti Square
9.00 AM – 1:00 PM
2:00 PM – 6:00 PM
29.4.13
TULSIBAG

MAHAL

Zhenda Chowk

9.00 AM – 1:00 PM
2:00 PM – 6:00 PM

29.4.13
NANDANWAN
WATHODA

Sangarsh Nagar
Jalaram Nagar

9.00 AM – 1:00 PM 2:00
PM – 6:00 PM