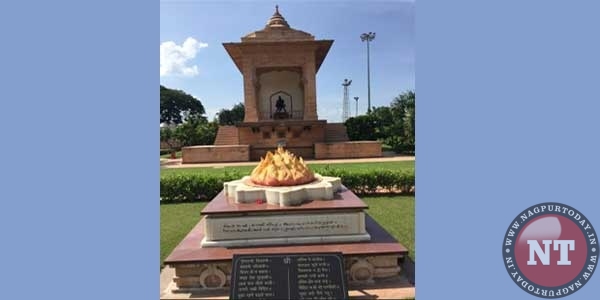 Nagpur: Known for the memorial of RSS founder Dr KB Hedgewar, Smruti Mandir situated at Reshimbagh has been given grade-C tourism status. The move has cleared decks for the BJP-ruled Nagpur Municipal Corporation (NMC), central and state government to spend public money on works in and around the Smruti Mandir.
The district planning committee has issued a notification on April 17 giving tourism status to the 78-year-old Smruti Mandir. The status was given following recommendations of the Maharashtra Tourism Development Corporation (MTDC) and the district planning committee.
BJP city vice-president Bhushan Dadwe obtained copy of the notification under RTI Act on May 5. Dadwe, in a press release, said that the oral statement of the state government before the Nagpur bench of Bombay High Court on January 31 in which it said that the Smruti Mandir has a tourism status was totally wrong. "Now, the NMC can execute works of Rs1.37 crore for construction of compound wall and road in and around Smruti Mandir. I demanded tourism status for the spot. I also submitted recommendations of ministers and legislators with the district planning committee. I am thankful to CM Devendra Fadnavis, Union minister Nitin Gadkari, finance minister Sudhir Mungantiwar, guardian minister Chandrashekar Bawankule and legislators Vikas Kumbhare and Girish Vyas," he said.
For giving the status, the MTDC has brought Smruti Mandir in the list of itinerary of 'Nagpur Darshan' citing that the large number of people visit the premises during Vijaydashmi celebrations and other occasions.
The NMC had proposed to spend Rs3 crore for works at Smruti Bhavan and Balasaheb Devras Path Triveni Smarak, Gandhibagh in its budget of 2017-18. In September last year, the NMC gave administrative approval for works of Rs1,37,38,844 for two types of works.
TOI had highlighted how the civic body cannot spend public money on Smruti Bhavan as it was a private premises and owned by Dr Hedgewar Smarak Samiti. Following this, activist Janardhan Moon had filed a PIL raising objection on the NMC's works and pending in the HC.