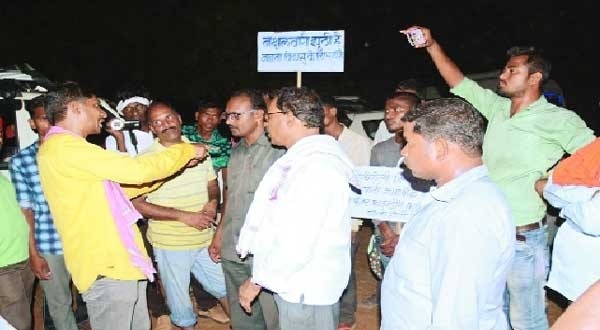 Probably for the first time, tribals from Gadchiroli district came together under the banner of Naxal Peedit Sanghatana and cornered the 'Fact Finding Committee' that is reportedly 'looking into' the Boriya encounter in which C-60 commandos of Gadchiroli Police and Central Reserve Police Force (CRPF) killed 40 Maoists.
The said 'Fact Finding Committee' comprising 'intellectuals and activists' from various places is 'looking into' the Boriya encounter near Kasnasur village in Gadchiroli district that took place last month. It is the biggest ever encounter in the country in which so many Maoists have been eliminated by security forces. However, for the past few days, various theories and allegations have been doing rounds on social media. Those floating these theories have accused the cops of poisoning the Maoist cadres, or showering bullets on 'bathing Maoists', etc. Ankush Shinde, Deputy Inspector General of Gadchiroli-Gondia Range; and Dr Abhinav Deshmukh, Superintendent of Police, Gadchiroli, have trashed these allegations. Still, some quarters have been talking about the encounter being 'fake' and the 'Fact Finding Committee' is an extension of it.
All their theories fell flat and the members of 'Fact Finding Committee' found it difficult to face the tribals who had gathered under the banner of Naxal Peedit Sanghatana. As many as 80 tribals signed a petition under the said banner and submitted a memorandum to the 'Fact Finding Committee' asking it to 'expose atrocities committed on them by Naxalites'. They asked the committee without mincing words, "Why do not you come when Naxalites kill our kin by branding them as police informers?"
"The actions of Maoists are against the values enshrined in the Constitution of India gifted to the nation by Dr Babasaheb Ambedkar. Still, the people like those in such Fact Finding Committees support the Maoists. We asked them why do not they come when civilians are killed by Maoists?" V N Madavi, a Naxalite-affected person told media. According to him, when the people submitted the memorandum in Marathi regarding their plight to the members of the 'Fact Finding Committee', they were asked to submit the same in Telugu or English. "We told them that we have drafted the memorandum in a language we speak," he added.
"The Maoists did not spare a pregnant woman, and even consumed the blood of a woman from village Benasur Tola. These acts were dastardly and inhuman. Still, the 'Fact Finding Committees' did not come to 'look into' such incidents," said an angry Madavi. There is a reason behind his anger. Madavi is one of those people who was kidnapped by the Maoists. He was kidnapped from his village Tekka in Etapalli tehsil as he had insisted upon carrying out developmental works. "It was in 2007-08 that I was kidnapped. Since my release, I am unable to go to my home, village. I stay elsewhere and earn my livelihood," he added with a sad tone palpable in his voice.
Manoj Kando also was among the Naxalite-affected persons who confronted the members of the 'Fact Finding Committee'. Kando told 'The sources over telephone that the 'Fact Finding Committee' members were startled to see Naxalite-affected persons at Boriya. "When we talked to them, they asked us as to who had sent us. Surprising! When we asked the same question to them, they had no answer. We told them that we also wanted justice but such 'Fact Finding Committees' do not come to address our grievances or find out constructive solutions to our problems," he said.
The Maoists kidnapped Kando on May 11, 2010, from his village Devda in Etapalli tehsil. He was kidnapped because he had participated in a police recruitment drive. "They kept me with them for almost one month. They had sharpened their knives to slit my throat. Fortunately for me, just before that day, police and Maoists got engaged in an exchange of fire and I got released. But, since then, I have not been able to go back to my village. I am living elsewhere and earning my livelihood. But, such 'Fact Finding Committees' do not care about our plight. They only come when Maoists are killed by police," he added.
The members of Naxal Peedit Sanghatana held placards stating that Naxalites had killed their family members, and had forced them to flee their lands, homes, and villages. "As you (members of Fact Finding Committee) come 'to find out truth' soon after Naxalites are killed, you should come when Naxalites kill innocent tribals also and get to know our pain," the members of the Naxal Peedit Sanghatana stated in a press release issued later. The release added that the tribals asked the 'Fact Finding Committee' to resolve the issues of Naxal-affected people. The tribals also asked the members of the 'Fact Finding Committee' to make efforts so that the Naxal-affected persons got farm land or Government jobs.
Maoists confirm those killed in encounter as 'party workers'
Even as questions are being raised from some quarters over whether all those killed in Boriya encounter were 'Maoists', the Maoists themselves have confirmed that those killed were 'party workers'.
In a pamphlet purportedly issued by South Sub-Zonal Bureau of CPI (Maoist), and found by Chhattisgarh Police in Sukma and Bijapur districts, reference has been made to 'our 42 party karyakartas (workers)' killed in encounter in Gadchiroli district on April 22. The pamphlet calls upon the citizens, labourers, farmers, students, and women to organise demonstrations at various places to condemn the encounter. Besides, it also provoked its cadres to 'attack corporate companies and Government establishments' as well as 'avenge the C-60 commandos'.
It may be recalled here that some days ago, a banner was found in Gadchiroli district in which South Gadchiroli Division of CPI (Maoist) had warned that the killings of 40 Maoist 'party workers' would be avenged.