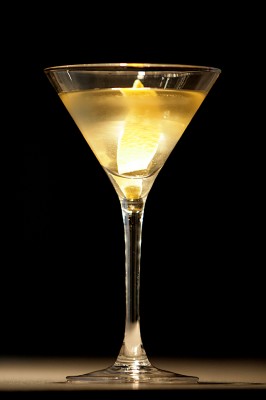 The Smoky Martini is a very easy variation of the Martini. There is no vermouth, no, in this cocktail it is a dash of Scotch that adds that a background to the gin. There is a lot of gin so I suggest that when you make this drink you use a premium brand. I also recommend a London dry because it works well with the smoky Scotches and the smokier the better. Also, before you drop that lemon twist into the glass, remember to twist it over the drink to release some of the essence – it's the perfect finishing touch.
Prep Time: 3 minutes
Total Time: 3 minutes
Yield: 1 Cocktail
Ingredients:
•        2 1/2 oz gin
•        Dash of Scotch
•        Lemon twist for garnish
Preparation:
1.       Pour the ingredients into a mixing glass filled with ice.
2.       Stir well.
3.       Strain into a chilled cocktail glass.
4.       Garnish with a lemon twist.
And then drink till u get drunk