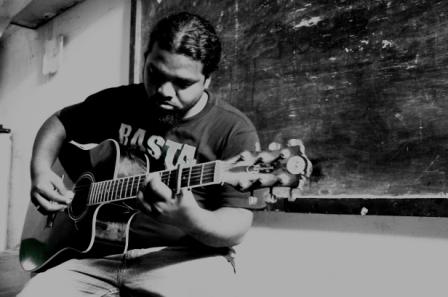 Nagpur Today Interview: A guitarist (or a guitar player) is a person who plays the guitar. Guitarists may play a variety of guitar family instruments such as classical guitars, acoustic guitars, electric guitars, and bass guitars. Some guitarists accompany themselves on the guitar by singing or playing the harmonica.Recently we had interviewed Jack Thomas who is one of a great guitarist of our city and even a icon for our Youth.
Suhani: Tell me something about yourself and your background.
Jack: I haven't studied too much. I had left my studies in my teens, for music. All my family is into music. I used to go out of town for shows, which why I couldn't give much time to my studies.
Suhani: Some thing about Your Hobbies.
Jack: When I was in school, I used to play a lot. I am more cricket and football. After I quit playing, I joined the gym. That's about it.
Suhani: What do you enjoy the most, besides music?
Jack: Watching movies.
Suhani: Tell me why you chose to be a guitarist, instead of choosing a career as an engineer or doctor.
Jack: I never considered them, actually. Every kid has a dream; some of them want to be doctors and engineers. I have always wanted to pursue music. I never considered any other option. I have my family's support.
Suhani: When did you start playing the guitar?
Jack: I started playing around the age of eight or nine. I've been playing for about fifteen years.
Suhani: You play the keyboard as well. Which do you enjoy the most?
Jack: You really can't compare the two. When I play the guitar, I feel very energetic. When I play the keyboard, I feel relaxed. I also play the keyboard when I'm bored. Different instruments give you different feelings.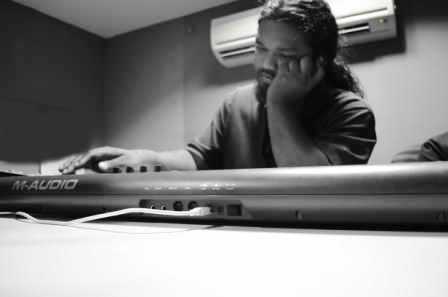 Suhani: Have you had any formal training in the guitar?
Jack: No, I learnt it all on my own. My father plays the keyboard and the accordion; there was nobody to teach me the guitar.
Suhani: Have you ever felt that you should have taken up something else?
Jack: Yes, when I was around fifteen or sixteen, I became interested in sound recording. I wanted to be a recording artist, and manage sounds and record albums for movies and artistes. Today, I'm basically a guitarist, keyboarder, arranger, music composer and a recordist. I also engineer sound for live shows.
Suhani: Where were you five years ago, and where do you see yourself five years from now?
Jack: Music is a gambling. You can't really predict what will happen in this line. Good things will happen if you are lucky. I don't want to be a big star, like other musicians do. I just want to make music.
Suhani: Tell us what the best part of you is, that people should know.
Jack: Good music, nothing else. I want people to know me only for my music.
Suhani: What are the major performances you have had in the city?
Jack: The biggest day of my life was the day I performed with A.R. Rahman and his team in Nagpur. I am really happy that I got to be a part of his stage crew, and also to jam with him and his team of musicians.
Suhani: What is your biggest achievement till date?
Jack: I am very good at PR. I have good relations with everyone. Everybody, from anchors, dancers, musicians and sound technicians to MLAs and policemen knows me. I don't know why, maybe because of my music. It's not very easy to gain such a market.
Suhani: What sets you apart from other guitarists in the city?
Jack: You can't compare that simply. There are different kinds of talent in this city, and there are different genres in music. Some guitarists are good at classics or rock; I am more into metal. Everybody's good at their own thing. We are coming up with a new album, for which we are working on a new kind of heavy metal music. The lyrics will be in Hindi, and the music will be very heavy.
 By Suhani Vanjani