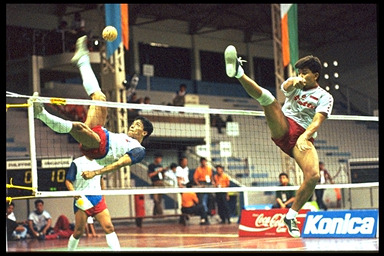 Nagpur Sports News: The Maharashtra Sepak takraw Teams Men and Women are going to participate in the 23rd Senior National Championship for Men and Women which will be held at Hyderabad, Andhra Pradesh on 23rd to 26th November, 2012 organized by Andhra Pradesh Sepak Takraw Association as informed by Dr. Sukdev Biswas, Secretary of Maharashtra Sepak Takraw Association.
The teams will be leaving Nagpur on 22nd November, 2012  for Hyderabad by A.P. Express at 09.30 am. Pamire Sahare and Ku. Sarita Patle will lead the Maharashtra Men and Women teams respectively. Dr. Sukdev Biswas deputed as Chairman of Referee Board and, S.L.Sharma and Dr. Amit Kanwar Referees will also accompany  the team.
Shri Prafull Gadge (Vatsulya Group) President,MSTA, Dr. R. S. Dagar, Mr. Salim Baig, Dr. R.C.Kanwar, and Dr. Lalit Jiwani congratulated the players.
The following are the Men Section Players: Pamir Sahare (Captain), Kunal Lonare, Roshan Singh, Samiruddin Shaikh and Ankush Kanwar (Nagpur) and Bharat Gautam (Gondia), Dr. Y.V.Pandey (Coach), Apu Sarkar, (Asst. Coach) and Dulal Roy (Manager)
The following are the Men Section Players: Sarita Patel (Cap.), Sneha Shendre, Megha Badhea and Krishna Gupta, (Nagpur), Megha Ramtake, Kalyani Gajbiye and Khushabu Bangadkar (Gondia), Poonam Telange, Chetana Meshram (Wardha) Mayuri Teli, Komal Desale, (Thane) Nikita More, Mamta Tatipamula, (Mumbai) Rupali Songat, (Nashik), and  Dipali Sahare (Bhandara) Deepak  Diwedi (Coach) Abdul Quam,( Asst. Coach), and Shobha Patel (Manager).