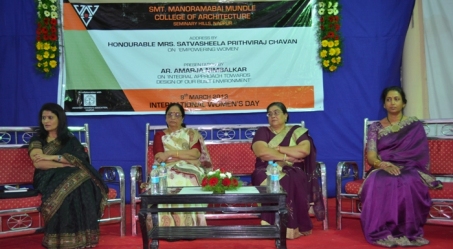 Smt. Manoramabai Mundle College of Architecture (SMMCA) and University Women's Association of Nagpur(UWAN) had together organized the and brought about the success or the International women's day celebration at the college premises itself. Being the first women's college of Nagpur, SMMCA is known to teach and inculcate a different type of sensitivity that women posses, among its students.
The Chief Guest for the celebration was honorable Satvasheela Prithviraj Chavan, who addressed the gathering on the issue of 'Women Empowerment'. As a social activist, reflecting her own unique identity, she informed the listeners about her various social projects. She also made them aware of the government schemes available for women, which every woman should know. She presented her views saying that 'Knowledge is the power!' Elaborating this, she said that one should first gain knowledge and then know how to imply it. She also added that men should not get insecure by a woman's empowerment, and instead be proud of it, which will prove to be more beneficial. As the gathering consisted of mainly architecture students, she concluded relating the field of architecture to a 'society'. She said that as columns, beams and structures are the tools of an architect; knowledge serves as the key tool for a society.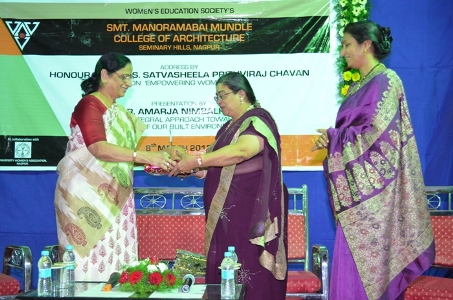 Further, the felicitation of Ar. Amarja Nimbalkar, a noted lady architect, marked the occasion. She also made a presentation on 'Integral approach towards design of our built environment'. She edified the students by letting them know about various concepts that can be used by an architect in order that the environment is benefited as well.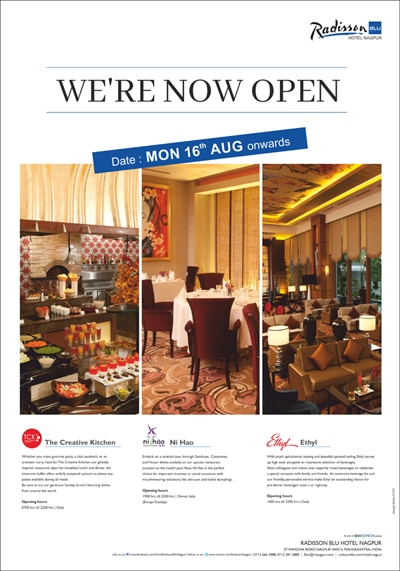 The annual prize distribution was also a part of the celebration. Prizes of the popular Inter-school drawing competitions were also given away at the function in the presence of Dr. Panna Akhani, Secretary, Women's Education Society, Nagpur.
Dr. Ujwala Chakradeo, Principal of SMMCA while talking to Nagpurtoday concluded by saying that both the dignitaries present at the occasion, are architects of their fields. On one hand, Ar. Amarja Nimbalkar works on building architectural structures, whereas on the other hand  Satvasheela Prithviraj Chavan works on building the value system of the society.