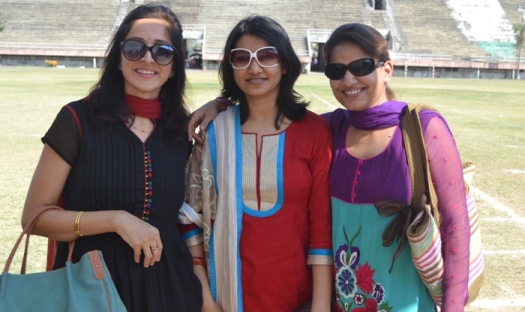 In this competitive world, where today's women have the capability to outperform men in many spheres, another example of initiatives taken by women organizations of Nagpur came forth on appreciable terms. Maheshwari Mahila Samiti had organized a Sports Event for women and children at Yashwant stadium Ground of Nagpur on Saturday. All day long there was a vibe of enjoyment experienced by women belonging to different professions that also included housewives. Highlight of the day being cricket matches, women teams were seen actively clubbing the game of cricket with enthusiasm and entertainment.
The inauguration of the event was done by former lady cricketer Megha Saoji. On this very occasion, dignitaries like Mr. Ashok Tapadiya, Nagar Sabha President and Mr. Dinesh Rathi were also present. The guest of honor was Rekha Bajaj. Dr. Prabha Atal was felicitated. The president of the committee, Roopa Chandak welcomed the guests whereas secretary, Jyoti Heda proposed the vote of thanks.
As said by the president of this committee, it was the first time when youngsters came up voluntarily and became a part of this event. Active participation was seen in spite of practice matches held under scorching sun, thereby witnessing the success of the event.