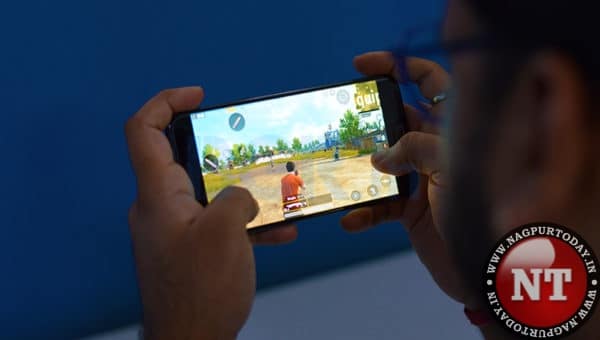 Nagpur: Mobile gaming is quite a craze right now. Gaming apps on mobile phones seem to be the latest fad in India, but on the flip side an increasing number of 'addicts', finding themselves saddled with debt and without money even to provide for their families, have attempted death by suicide. From Angry Birds to many games like PUBG, everyone including the youth has become crazy, said a report in local Marathi daily.
Interestingly, Nagpur ranks second in Maharashtra in playing mobile games. The 'India Mobile Gaming 2022' report was recently published. India ranks among the top five countries. Maharashtra is at the second position in the country. Every third person in the country uses a 'smart phone'. The number of gamers is increasing day by day due to the affordable prices of smart phones, availability of cheap data and improved bandwidth.
According to this report, 62 percent of smart phone users in Nagpur play games on mobile. Nowadays there is a trend of new smart phones and various applications that are useful from time to time. This change is reflected in the increase in wireless connectivity in the country. As the number of internet users is increasing, the mobile gaming market is seeing a new addition of advanced games.
Some amazing aspects of playing games:
85 percent of people do not agree that playing games is their hobby
On average 25 percent of women stay in games longer than men
More than 43 percent of women play games more than five times a week
Smartphone users spend 90 percent of their time on games and applications
Everybody plays at least two to three games of different kinds in a month
More than 50 percent of people play mobile games while in the bathroom
First five states of the country:
First – Uttar Pradesh
Second – Maharashtra
Third – Rajasthan
Fourth – Bihar
Fifth – West Bengal
Cities in Maharashtra:
First – Mumbai
Second – Nagpur
Third – Pune
Fourth – Thane
Fifth – Nashik
Most Played Games:
Ludo Dice, Snakes and Ladders, Carrom, Fruit Dart, Block Puzzle and Poker
The dangers of online gaming:
Insomnia problem
Lack of attention in work
Increase in the possibility of cybercrime
Increase in diseases like cancer, depression
Why is the craze of playing mobile games?
Relieve stress
Enjoying a virtual world
The satisfaction of doing something challenging
The joy of doing something different about yourself
Matching unique topics
Currently, the amount of online gaming is increasing. That includes online gambling. People are getting used to it. Cyber threats have increased in the country. Many people's personal data is easily stolen and cyber crimes are increasing, said a Cyber Security Expert.
Most apps require you to make an initial payment to receive the bonus, thereby linking your wallet to the app. Companies then use a variety of techniques—bombarding users with notifications of offers and discounts to entice them into pouring more money into the app. Alert users are quick to realise the traps in the system and get out before losing too much money. The unlucky ones lose more money than they started with. The most unfortunate among them lose their lives along with their money, as has become apparent from a slew of gaming debt-related suicides in the country.