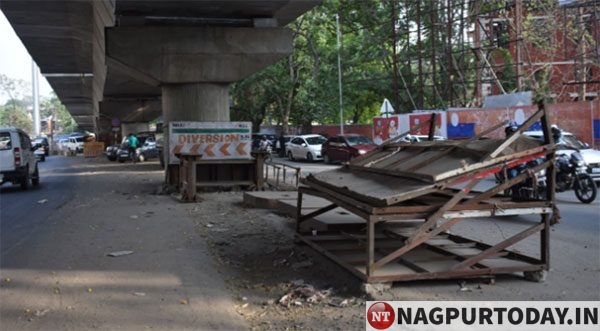 Nagpur: The once busy streets of Sadar wear a deserted look today, thanks to slow pace of the ongoing road and flyover construction work, which shows no sign of completion and only the authorities concerned know as to when it will see the light of the day. A visit to the locality reveals the fact, where not only vehicle riders but also the pedestrians have the harrowing experience. At many place only one side of the road is accessible making it virtually a single lane road. The enforcement of footpath leaves the pedestrians with no options but to walk on the road, adding to their woes.
However constriction work at Sadar is not an exception as the same pace can be observed in the construction of the ongoing cement roads and drainage system across the city.
The flyover being constructed from RBI Square to Katol Naka Square and Mankapur Stadium was scheduled to be completed by March 31, 2019. However, till date, the work is still not completed. The same has been mentioned in the work tender.
However, NHAI – the implementing agency could not give a satisfactory answer on the issue. Similar was the response from the contractor of the project.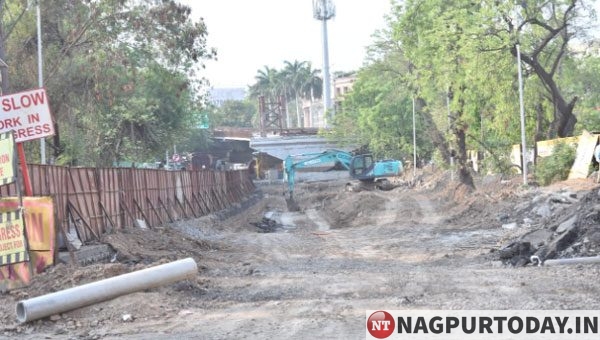 The construction of the flyover is in progress since the last three years, but at a snail's pace. Lack of coordination between NHAI and NMC is also stated to be one of the reasons for the delay in the project. The 4.22 kilometres flyover is being built at an estimated cost of Rs 250 crore.
When contacted, while some of the NHAI officials did not reply to the phone calls and others could not give satisfactory answer. The trees, creating an obstruction on the particular road stretch haven't been chopped off yet, though, the NHAI has completed the required formalities for the process.
The administration seems to have turned a blind-eye towards the problem faced by the commuters. Local shopkeepers in the area are the worst sufferers owing to slow pace of construction works as it has severely affected their businesses.
"We are facing severe parking crisis owing to slow pace of construction works. Even traffic police are not deployed on the stretch. They are lifting vehicles from all the non-parking areas. It seems they are willfully ignoring the fact that there are hardly any spaces left for parking," said a Sadar based shopkeeper.
-By Shubham Nagdeve