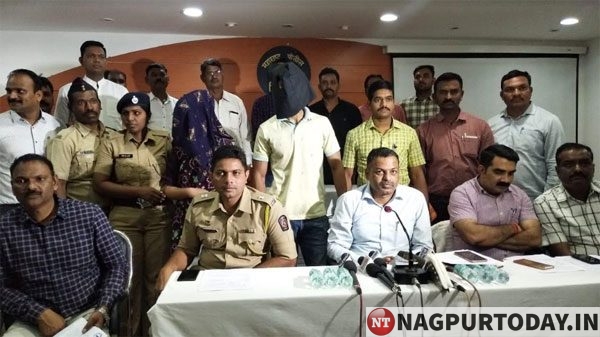 Nagpur: In a breakthrough in the murder of an elderly couple in Wadi, the Crime Branch on Monday arrested their adopted daughter and her boyfriend.
The accused were identified as Aishwarya Champati (23) a resident of Plot No. 1/2 Suraksha Nagar, is an IT engineer who works at a company in IT Park and her boyfriend Mohammad Eqhlak Khan (23) a resident of Ismail Layout who is a cricketer by profession .
The accused has allegedly planned the murder as Aishwarya's parents were critical about those relationship, informed DCP Crime Nilesh Bharne while addressing the press conference on Tuesday.
Shankar Champati (72) and his wife Seema (64) were discovered dead in a pool of blood at the house on Sunday night by thief daughter Aishwarya, who subsequently alerted Wadi police. Wadi police had registered a case of murder and launched a probe.
During the investigation it was revealed that, Aishwarya's parents had sided in an accident when she was eight months old, after which the Champati couple had adopted her. When Aishwarya was in 10th, she came in contact with Khan and the duo soon entered into a relationship. However the deceased Shankar was critical of their relationship and used to pick up quarrel with Aishwarya on the regular basis owing to her relationship with Khan. Annoyed due to which both the accused decided to settle the matter for once and all.
On Sunday, at around 12 noon slip in sedatives to her parents. Soon as they fell asleep she singled Khan. The duo attacked Shankar's head with sharp weapon and went inside killed Seema in the bedroom. Subsequently the accused duo left the house with gold ornaments and cash, before ransacking the place to make it look like a robbery.
Where Khan went to his house and Mominpura, Aishwarya first went to parlor in Wadi and later accompanied by her cousin sister Megha and her boyfriend, she went for shopping in Ramdaspeth, mentioned the DCP.
Crime Branch grew suspicious about Aishwarya when they went through her calling and whatsapp history, as all the data were deleted. However when the police interrogated her, an IT professional soon spilled the beans.
Police have booked both the accused under section 168/19, 302, 459 of the Indian Penal Code (IPC) and placed them under arrested.
By Shubham Nagdeve