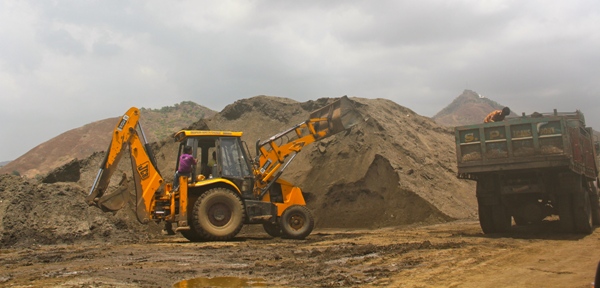 Nagpur News.
The Maharashtra Government, in the "good news" to hundreds of contractors, has "dumped' the mandatory Environment Ministry permission for sand mining. Instead, according to Government decision, now sand mining auctions would take first and then only the No Objection Certificate (NOC) of Environment Ministry would be required. In simple words: The District Administration could go ahead with sand mining auctions without waiting for the NOC from Environment Ministry. The decision would save the Government revenue in crores, according to the decision.
According to sources, the District Administration previously faced a series of difficulties in auctioning of sand mining following requirement of NOCs from 7-8 concerned departments the main being nod from Environment Ministry, the most difficult one. The issuance of NOC by the Ministry gets enormously delayed owing to several factors. The delay hits the auctioning of the sand mining by a period ranging from 4 to 6 months. The delay in auctioning comes as "blessing in disguise" for sand mafias who then indulge in illegal mining, of course, in connivance with the concerned authorities in police, revenue and transport departments. The illegal sand mining directly hits the Government coffers hard with revenue loss in crores. The latest decision by the Government is the outcome of the same aspect.
The Government has also ordered formation of 5-member committee in each district which will be headed by the respective District Collectors. Other members of the committee include District-level Officer of Maharashtra Pollution Control Board, Deputy Forest Conservator, District-level Officer of Geological Survey of India, and District Mining Officer as Member Secretary. All the five members of the committee will take a decision in connection with auctioning of sand "Ghats" for mining.
The committee will also ensure that the No Objection Certificates from concerned departments have been received by the contractors for sand mining after the auctions. And mining will be allowed only during day time. The committee will also ensure that no sand mining is being carried out at the safety areas of any bridge or irrigation canal and archaeologically significant and manmade structures. The committee will also see that the sand and other mined material is being properly transported by the contractors without any wastage.