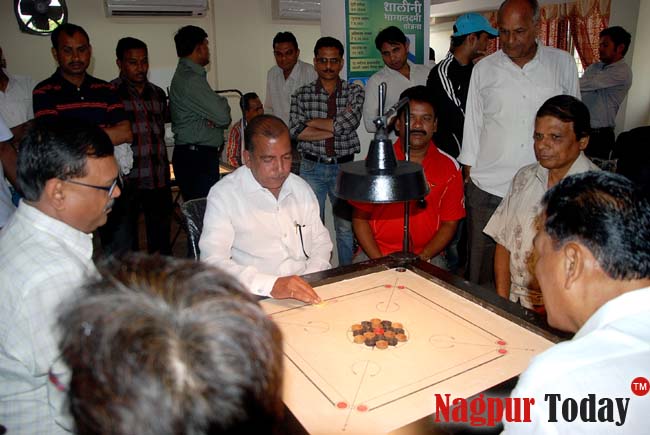 Nagpur News: The 6th Carrom Tournament for Media Employees organised by Sports Journalists Association of Nagpur (SJAN) and sponsored by Tirupati Urban Co-operative Bank Ltd. was inaugurated by vice-president of the bank Narayandas Ahuja.
Noted sports organiser and corporator Prof. Vijay Barse and president of Tilak Patrakar Bhavan Trust Pradip Maitra also graced the occasion. SJAN president Dr Ram Thakur made introductory remarks. Secretary Kishor Bagde, treasurer Suhas Nayse, member Nilesh Deshpande and Narendra Chore welcomed the guests.
Member Amit Sampat conducted the proceedings while joint secretary Sarang Kunte proposed a vote of thanks.
Winner of rounds two entered the pre-quarters
Results (round 2):
Ramesh Marulkar (The Hitavada) bt Nityanand Pathak (Dainik Bhaskar) 25-0, 25-0;
(S-1) Pankaj Najpande (Lokmat) bt Sudarshan Sakharkar (Loksatta) 25-2, 25-0,
Rakesh Undirwade (Gaurav Garima) bt Deepak Labde (Lokmat) 25-0, 25-0;
(s-3) Umesh Mahadeokar (Tarun Bharat) bt Avishkar Deshmukh (Punyanagari) 25-0, 15-0;
Sujan Masid (Dainik Bhaskar) bt Faizul Qumar (TOI) 25-2, 9-3;
Kartik Lokhande (The Hitavada) bt Vinod Suryavanshi (Gaurav Garima) 9-0, 19-4;
Chandu Dasalwar (Lokmat) bt Chinmay Kale (Maharashtra Times) 8-0, 16-0;
Gajanfar Baig (Lokmat) b Ashish Joshi (Lokshahi Varta) 15-7, 8-9, 15-0;
Rakesh Undirwade (Gaurav Garima) bt Deepak Labde (Lokmat) 25-0 25-1;
Bhimrao Lonare (Lokshahi Varta) bt Vikas Barokar (Punyanagari) 17-4, 13-3;
Chittaranjan Nagdevte (Lokmat) bt Piyush Patil (Maharashtra Times) 25-0, 19-0;
Anand Kasture (Maharashtra Times) bt Anil Futane (The Hitavada) 11-9, 7-6;
Nilesh Doye (Punyanagari)n bt Uday Dindolkar (Tarun Bharat) 20-4, 14-5;
Nitin Patariya (Lokmat) bt Jeevak Gajbhiye (Lokshahi Varta) 13-9, 5-3, 15-4;
Sandeep Gadge (Tarun Bharat) bt Dharmendra Kumar (TOI) 14-10, 11-13, 17-4;
Girish Thakre (Doordarshan) bt Pravin Shende (Lokmat) 9-13, 19-5, 12-6.