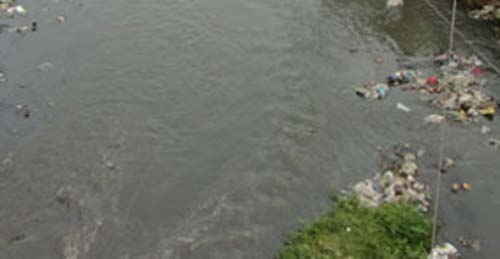 Nagpur News: The Congress activists on Friday morning gheraod Nitin Raut, the Minister for Employment Guarantee Scheme in Maharashtra Government, on the issue of cleaning and beautifying Pili Nadi onthe lines of Nag Nadi in Nagpur. However, when the minister pacified the Congress activists by assuring them of necessary steps will be taken, the activists lifted the gherao and allowed Nitin Raut to leave the place where an agitation for cleaning of Pili Nadi has been started. Now, the next target on the radar of Congress activists is Mayor Anil Sole.
The agitation, under the leadership of former corporator Khushal Hedao, began from the Vandevi Bridge in North Nagpur. Residents in large number from areas like Vinoba Bhave Nagar, Gulshan Nagar, Pandurang Nagar started gathering at Vandevi Bridge on the issue of Pili Nadi. The massive gathering was hot topic of discussion and a warning of a sort to Mayor Anil Sole and other BJP leaders and of course to BJP-ruled NMC. The people rushed to the agitation place after learning that the Congress activists were agitating in their own constituency in North Nagpur. After reaching the spot, hundreds of Congress workers, activists and common people gheraod Nitin Raut as soon as Hedao announced gherao of the minister.
Nitin Raut decalared that the issue of Pili Nadi cleaning and beautifying will be raised by him strongly in the winter session of Maharashtra Assembly to be held in Nagpur. He said that with the help of all Nagpur MLAs the problems of Nagpur would be resolved during the winter session. For this, Raut said, he will submit a list of all problems faced by Nagpur citizens including the issue of Pili Nadi to Business Advisory Committee of Maharashtra Assembly which looks after the issues to be tabled in the Assembly. After the assurance of Raut he was allowed to leave the place of gherao.
The next step of agitation, Hedao announced, would be to gherao Mayor Anil Sole and force the Mayor to make a provision in the NMC budget for cleaning and beautifying Pili Nadi on the lines of "Mission Nag Nadi Cleaning."