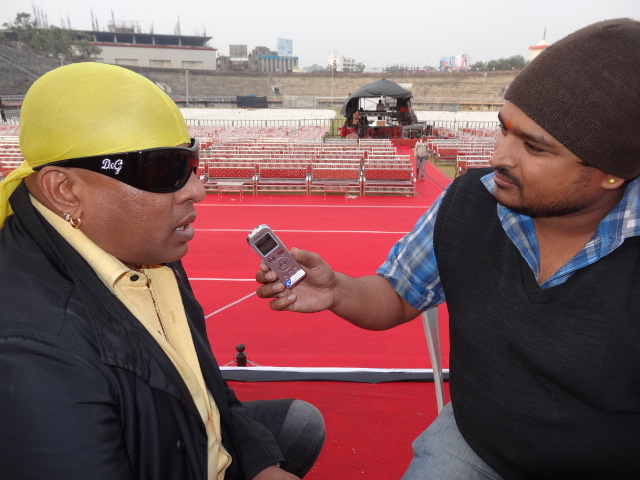 On the second day of Nagpur Mahotsav, Nagpur Today gets to meet India's great percussionist Sivamani right before his performance. Following are excerpts from the respected artist's hearty tete'- a- tete' with Yash Raj. Trivedi.
Nagpur Today: Good Evening, Sivamani. Welcome to Nagpur!
Sivamani: Hello Nagpur!!!Last time when I came I played with A R Rahman so ….ready for some great music.
Nagpur Today: You were seven when you started playing so how has been journey since!!!
Sivamani: My age is 16 at heart my music is 16 and my outside body is 53 but my soul is 16.
Nagpur Today: We all know you can beat from everything so is there some which has no beat?
Sivamani: I think everything has beat has rhythm and so is life.
Nagpur Today: When I say the name "A R Rahman", what comes to your mind?
Sivamani: A R Rahman is blessed to us he is a genius and has a lot of vision to introduce new singers, musicians and has a great knowledge of music & stage.
Nagpur Today: They say Sivamani does magic on stage. So what keeps you going??
Sivamani: Once I touch my instrument, I get so involved that I forget I have ten, hundred or thousand people in front of me.
Nagpur Today: Your most memorable event?
Sivamani: It's not one, its three!!! When I played with my Guru Billy Goblin, when APJ Abdul Kalam played with me in Rashtrapati Bhavan and the third is when I played in front of African President Nelson Mandela.
Nagpur Today: Siva, what's your Nagpur connect?
Sivamani: It's a beautiful connection called music.
Nagpur Today: Message to music lovers
Sivamani: Keep listening to good music, be light and you will always shine bright.
–        ­ Yash Raj. Trivedi