Nagpur: A silent march was organised for justice to Asifa where hundreds of nagpurians gathered to show there support. The march was held under the guidance of members of Dakshinayan and Dr Babasaheb Ambedkar vidhyarthi sanghatana on Monday from Anna Bhau Sathe square, Diksha Bhoomi till Laxmi Nagar Square.
The silent march was held in the hope of giving justice to the minors and severe punishment should be imposed to the accused. Aruna Sabane head of Dakshinayan organization, Pramod munghate member dakshinayan, Lila Chithade a gandhivadi and a freedom fighter, Rupa kulkarni VIDHARBHA domestic worker along with others guided the march.
Rucha Wankhede a Dentist by profession condemned the act and said that Such marches Give a flicker of hope to the victims parents, flicker of hope to countless million people who think that nothing is done in india. If it gives hope to people to raise there voices then it will be good. I can't say if the city is safe for women until the justice is given to the victim. The last will be to hang them and we need to wake up as a society and unless and until a girl feels safe in the society it will be hopeless to say that we got justice.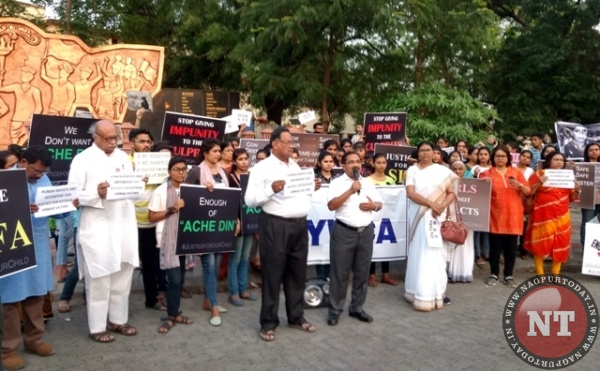 Dewashish Thakare a student from VNIT college said that the motive of silent march should to seek Justice insted of blaming the law and order and first we have to change the mindset of the people so that such horrific incident be stoped and youth must get involved in these things. Eve-teasing must be stoped and being a boy if such incident take place in front of me I'll protest and help a girl who is getting eve teased and if one man took an initiative then people will join them.
Aruna sabane said that any city is not safe and proper law and enforcement must be imposed as crimes do happen in the city everyday which go unnoticed. We can just hope that proper law and order is given in such cases. The march ended on a note where everyone signed an open letter which will be submitted to Prime Minister.