Nagpur News : Nag Vidarbha Chamber of Commerce (NVCC) supporting the action initiated by Federation of Associations of Maharashtra (FAM) has launched Signature Campaign to abolish Local Body Tax (LBT) got tremendous response.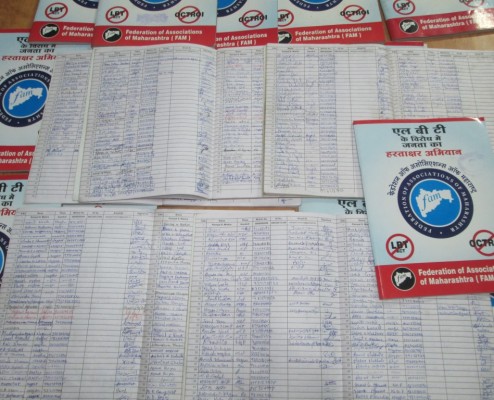 On 14th November 2013, NVCC kick started the signature campaign by First signature by First citizen of the City Anil Sole, Mayor, Nagpur Municipal Corporation he was appraised that federal body of all trade associations of Maharashtra, FAM, Mumbai has requested members of trading community and general public for the signatures against LBT to be submitted to the Chief Minister.
Accordingly books for collecting signatures were given to its constituent trade associations/Chambers in Maharashtra. In the meeting Anil Sole, Mayor while addressing the members of trading community said that he was always with the traders and put his signature in the book of campaign.
About 60 books for signatures were distributed to following trade associations requesting them to collect the signatures of its members, customers and general public and return the books duly signed to NVCC.
Maximum no of books were received from the trade associations duly signed in the books About 1,03,228 signatures were collected from the members of trading community, customers and general public of Nagpur.
NVCC President  Dipen Agrawal appeals the Chief Minister, Maharashtra to consider the recommendations of Maharashtra Economic Developments Council (MEDC) and implement the same withdrawing Local Body Tax (LBT) introduced by the Government in the Municipal Corporations in Maharashtra. Dipen Agrawal, President, NVCC thanked Sanjay K. Agrawal and members of LBT Virodhi Sangarsh Samiti (NVCC), office bearers, members of Executive Committee, President/Secretary of trade associations and its members for supporting the signature campaign for abolition of LBT. He further said that all the books containing signatures would be forwarded to FAM, Mumbai by the Chamber for onward transmission to the Chief Minister.
Names of Trade Assons: All India (Nagpur) Transport Sangh, Central India Surgical Dealers Association, Ghass Bazar Steel Association, Hardware Dealers Association, Jafarnagar Vyapari Association, Mominpura Tra. Wel Association, Nagpur Bidi & Tobacco Association, Nagpur Bardana Merchants Association, Nagpur Vahi Utpadak Sangh, Vidarbha Pen & Stationers Asso, Sona Chandi Oil Committee, Stone Merchants Association, The Nagpur Itwari Kirana M Asso, Vidarbha Plywood M Asso, Mankapur Chaoni Asso, The Wholesale Cloth & Yern M Asso, Steel & Hardware of Vidarbha, Automobile Dealers Association, Electronics Merchants Asso, Jagnath Road Merchants Assocation, Jaripatka Dukandar Sangh, Kelibag Road Vyapari Sangh, Nagpur Footwear Who-Deal Association, Nagpur Mill & Mac- Mer-AssociationNagpur Mobile Phone Association, Nagpur Stainless Steel & Metal Association, Nagpur Timber Merchants Association, Nagpur Watch Dealers Assocation, Nagpur Who- Hosiery Ready-Gar- AssoNagpur Waste Paper D-Asso, Railway Station Dalal associationThe Electrical Mer-Asso-Nagpur General Merchants Asso, Vidarbha Dyes & ChemicalVidarbha Dall Millers Asso, Maharashtra Swarnkar Sanstha, Hudkeswar Vyapari AssoMaharashtra Swarnkar Sanstha, Electric Merchants Association, states in a press note issued by Shri Hemant Gandhi. Hon. Secretary of Chamber.