Nagpur News: The enquiry of Shreesurya Group has become suspicious as its promoter Samir Joshi is not being arrested even after registering of offences against him. Inaction on part of police has given rise to rumours and many have not yet understood the reason behind cops giving free hand to Joshi who duped thousands of investors.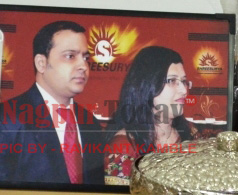 Crime Branch officers had registered cases of cheating against Shreesurya Group"s head Samir Joshi and his wife Pallavi Joshi. Crime Branch officers have clearly mentioned in the FIR that Joshi couple cheated 5,000 investors by luring them to provide attractive interest rate on their returns. They cheated investors to the tune of ` 200 crore by not returning their amounts within a stipulated time.
The investors are now, pointing fingers on police investigation. The question that is arising in the mind of several investors is, why they (police) failed to arrest him (Joshi couple) immediately, when they had sufficient proofs against him?
The investors were also raising the question why police gave room to Joshi couple to roam free.
Investigation officer has not provided any satisfactory information in this regard. Employees and agents of Joshi are being investigated, they say. But cops are avoiding to answer questions on Joshi couple"s arrest before the enquiry of their employees and agents.
This hesitation of police has created suspicion among the investors. Are cops awaiting pre-arrest bail to Joshi couple, investors have asked.
The complaints against Joshi couple have been piling up. Looking at the suspicious enquiry, many investors have taken the stand of "wait and watch". Besides this, anger among them is growing day by day. why no arrest?