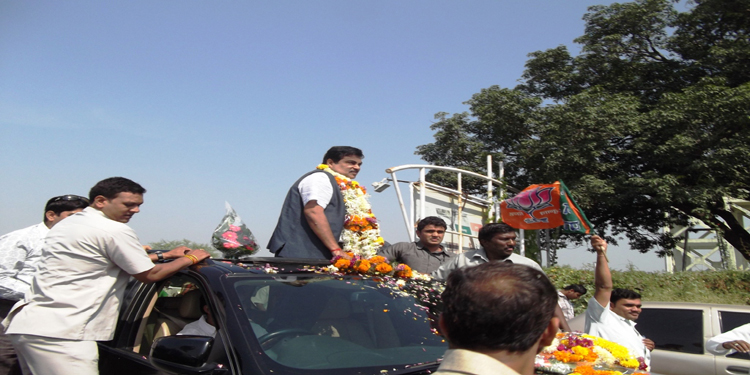 Nagpur News:  BJP president Nitin Gadkari on return to Nagpur today to a huge show of support. More than a thousand people people greeted him at the airport with garlands and dance. He left the airport waving to the crowd through the sunroof of his car.
Mr Gadkari arrived in his home town after campaigning for his party in Himachal Pradesh, which votes next month. His presence there was endorsed by the BJP in an emergency meeting last week held to assess the impact on the party of the charges against Mr Gadkari.
Today, he hinted to supporters that he may contest the Lok Sabha elections in 2014. He also assured them that he plans to be exonerated in court of the charges against him.
An investigation by income tax officials and the Corporate Affairs Ministry is verifying charges that Mr Gadkari's expansive business empire is funded by ghost investors. He has denounced the allegations.
Last week, his party's top leaders met with him in Delhi. He reportedly shared his defense with them; they decided he should complete his term as president, which expires in December.
"Certain media groups are acting as 'dalals' (agents) of Congress party. Two English TV channels and one English national daily are behind the vicious campaign against me and are playing into the hands of Congress," Gadkari said addressing his supporters here on return from Delhi.
"A big media group had routed black money parked in London via Mauritius and manipulated shares worth Rs10 each by selling them at Rs 38,000 each," he said without naming the media house and claimed he possessed relevant documents.
Also, in a statement that could lend itself to various interpretations, Gadkari said," I had neither sought the post of national president of BJP nor would I seek continuation."