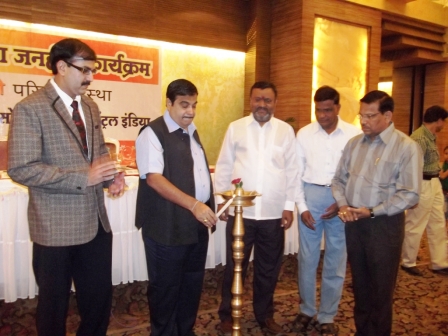 Nagpur News: The Thalassemia Society of Central India, together with NGO Maitreyee Parivar Sanstha, organised an interaction and free distribution of medicine to Thalassemia patients at Centre Point Hotel on Sunday. BJP President Nitin Gadkari, who had contributed greatly to the event, was the chief guest and gave out the medicine. NMC (Nagpur Municipal Corporation) standing committee chairman Dayashankar Tiwari was also present.
The programme was attended by Thalassemia patients and families from within and outside Nagpur city.  Many poor families had travelled for hours and paid for an overnight stay in the city in order to attend it. The distribution was preceded by interactive sessions of patients with doctors, wherein the affected and their family members discussed the various problems being faced by Thalassemia patients in treatment and day- to- day life.
"Thalassemia is a genetic disorder which requires the patient to be given blood transfusions on a monthly basis throughout his/ her life," Dr. Vinky Rughwani, President of Thalassemia Society of Central India, told Nagpur Today, "A thalassemia minor patient is more or less a healthy human being. However, if husband and wife are both Thalassemia minors, they will conceive a Thalassemia major child. Hence, we are trying to advocate Thalassemia checking before marriage for all people."
"Regular medicines for an affected child costs approximately Rs. 6000 per month. Thankfully, the bood is free at all hospitals", an aggrieved parent told Nagpur Today, on condition of anonymity, "It is at programmes like these that we are instructed about the minimum Haemoglobin levels required before transfusion. Hospitals staffers at GMCH, where my child is registered for regular transfusion, simply ignore us when we ask them to maintain these standards for the safety of our children. It is better for literate people like us, who can put our points forward. People who come from villages nearby or far away are simply shrugged aside or sapped at when they try to say anything. The lack of coordination between technicians sometimes forces us to wait overnight for a simple procedure. People who come by bus and train have to stay over for two or three nights and have nowhere to go".
Problems regarding the availability of blood were also discussed at the seminar. Families often have to go back despite having an increasingly weakening patient with them, for lack of blood at blood banks and hospitals. The city is clearly falling short of willing blood donors who can make life much easier for families like these. The condition can be cured by bone marrow transplant, a procedure which is of no risk to the donor. Yet, in the rare cases that families find a matching donor, the donor usually asks for an amount between Rs. 10 lakh to Rs. 40 lakh for the "donation".
One parent, echoing the thoughts of most others in the hall, said, "Even parents with an affluent background throw up their hands sometimes. With medicine prices increasing, what are we to do?"
-Meghna Majumdar