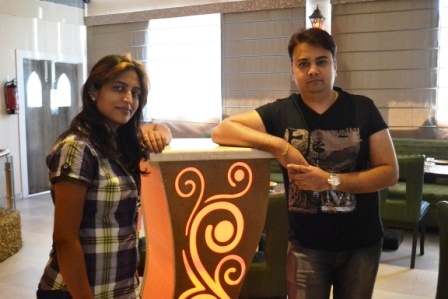 Nagpur Today Food: The wait is finally over for Nagpur foodies. Czaar Lounge & Restaurant a new food destination on Wardha road is open for all. Situated at Babasaheb International Airport, Nagpur, this place is within 10kms from zero mile on Wardha Road. This means Nagpurians can now enjoy a pleasant evening in the arms of exquisite ambience and that too away from the hustling city traffic. And you don't have to worry about parking inside the airport. Czaar offers a separate parking free of cost to its customers. Czaar Lounge is an ideal destination for party lovers – Birthdays, Anniversaries or any other occasion – the lounge area is best suited for such events.
Ankita and Suhani from Nagpur Today visited the restaurant and spoke to owner Ranjan Kale.
Suhani : Tell us something about yourself and Czaar!
Ranjan Kale: I am a Mechanical Engineer and my parents wanted me to work as an Engineer. But I was really not interested at all. I always thought of being into Food industry and that's what I did. I started it with Fionna in 2009, which is my first baby. And now the second one, Czaar! I got to know about this place through a tendered document which was published in the news paper. When I visited the site, it was not structured properly. Still I contacted the concerned authorities and bid for this place. I won the bid as it was the highest and I got down to building Czaar.
Suhani: The interior is really wonderful. I can't stop myself from asking you. Who designed it?
Ranjan Kale: My wife gave me the whole idea. So all credit goes to her . About Czaar , it is divided in 2 separate sections viz. the Lounge and the Restaurant with a total seating capacity of over 250 persons. Czaar has a very unique and different ambience. As you enter, you would be greeted by a sculpture of 'Czaar' the Warrior with war scene in the back drop. The colours used are mostly warm and earthen with a refreshing green upholstery. The overall effect is warm and soothing. Usher yourself into the Lounge area, the theme continues inside with an addition of colour changing lights to suit your mood. An awesome collection of music from Bollywood to Hollywood will liven things around.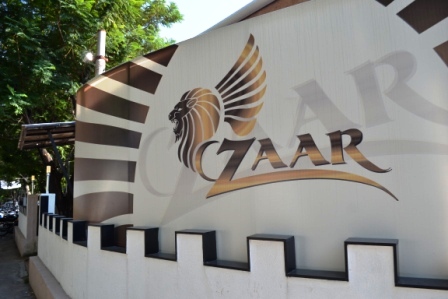 Suhani: Why the name Czaar?
Ranjan Kale: Czaar means the most powerful person in the territory. It is not the name but it is the designation we give to somebody and yes it made an impact on my mind. So I named it Czaar.
Suhani: What type of food you are offering?
Ranjan Kale: We have Indian , Chinese, English breakfast, Continental and a bit of Thai. Our speciality is Continental.
Suhani: Do you Cook?
Ranjan Kale: Yes!  I can make Butter Chicken, Omelette Sandwiches . . Thats it! Other than this, it should be risky.
Suhani: How is Czaar different from other restaurants?
Ranjan Kale: First of all it is located at a very secured place and there is no issue of parking. Secondly the difference we are offering are in terms of the ambience and atmosphere which is also unique in itself. You will not find this mix in other restaurants in the city. Youth can hang out with their friends in the Lounge and the families can dine in the restaurant. Thirdly Czaar is also for the airport staff, Passengers and Local Nagpurians.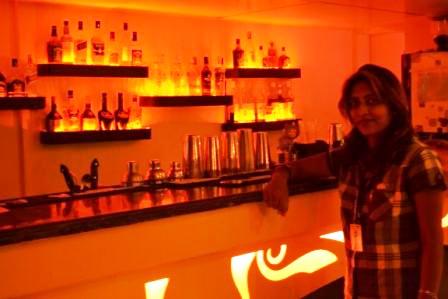 Suhani: Tell us something the Lounge.
Ranjan Kale: When it Comes to drinks you are in for a pleasant surprise. Czaar offers a mind boggling variety of cocktails, mocktails and a wide array of Whiskies and Vodkas. Czaar is a sister concern of Fionaa Lounge & Restaurant which is already a success story in the field of Fine Dining and Lounge culture.
Suhani: What is more important Food, Interior or Comfort?
Ranjan Kale: According to me Food is the Back Bone of a restaurant and I am focused on that. If food goes wrong then even your Interiors won't work.
Suhani : What are the Timings of the Restaurant?
Ranjan Kale: The place is open from 7am to 12midnight. So next time you plan a day at the airport, we can provide Breakfast, Lunch and Dinner. I you are coming from a long trip, hop into Czaar, relax at the Lounge, eat at the Restaurant and then go home. It saves you the hassles of cooking when you are tired after travelling.
 So whats the plan? Drive to Czaar! Check it out! Satisfaction guaranteed!!!
Suhani Vanjani