BJP Corporator Sandeep Joshi blocks the shoe hurled at Devendra Fadnavis.The incident occurred during an all-party meeting was being held to protest serial bomb blasts in Bodh Gaya in Bihar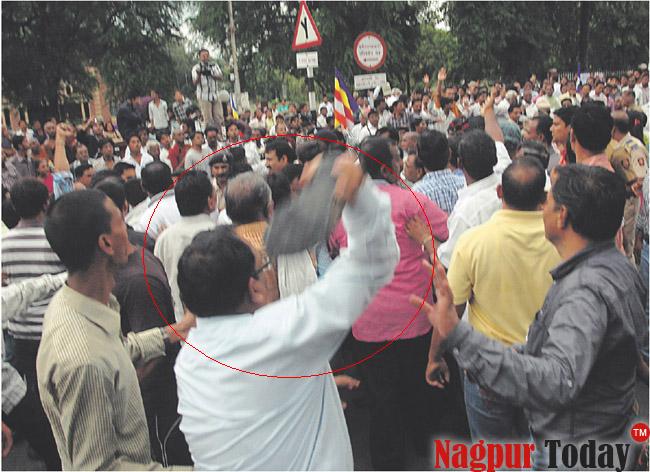 Nagpur News: The all-party meeting held at Reserve Bank Square (RBI) near Dr Babasaheb Ambedkar's statue in Sanvidhan Square to protests serial bomb blasts in the Mahabodhi Temple complex in Bihar's Buddhist pilgrimage town of Bodh Gaya early on Sunday, took an ugly turn.
The Maharashtra unit President of BJP Devendra Fadnavis and some other party leaders also reached the spot to take part in the all-party meeting. The BJP leaders also formed a long human chain and resorted to "Rasto Roko" to protest the bomb blasts in Bodh Gaya.
However, at the same time, a group of youths belonging to  ALL India Mulnivasi Bhaujan Samaj Central Sangh ( AIMBSCS), a party  led by Vijay Mankar who is a Founder Chairman, was standing on the other side of Dr Babasaheb Ambedkar's statue. One of the youths standing in the group hurled a shoe in the direction of Devendra Fadnavis. But the shoe was blocked by Sandeep Joshi, BJP Corporator who too was present at the spot, by his hands.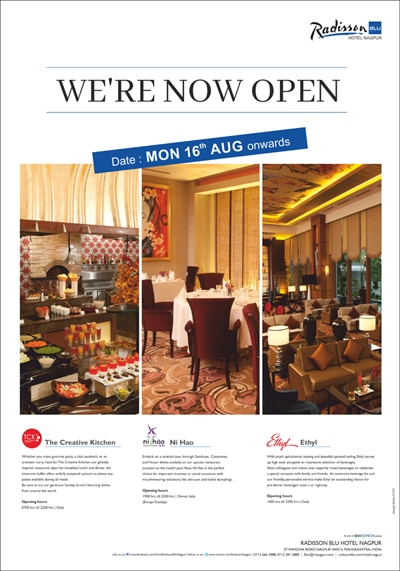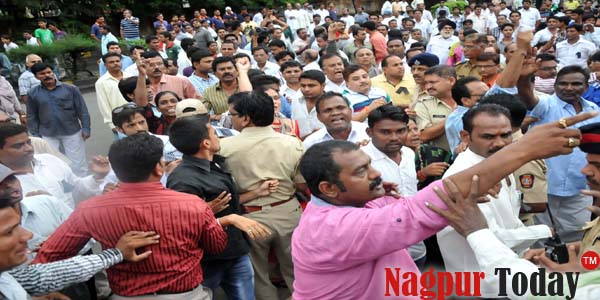 According to Bablibhai Meshram, Deputy President of City Unit of BJP, the youth was later identified by only first name as Sandeep.
Bablibhai Meshram said, after considering the seriousness of the situation prevailing at the all-party meeting which was protesting the bomb blasts in Bodh Gaya, the shoe hurling was not taken seriously.
At the time of filling this report BJP office bearers were in Police Station demanding action against the culprits. Details are awaited..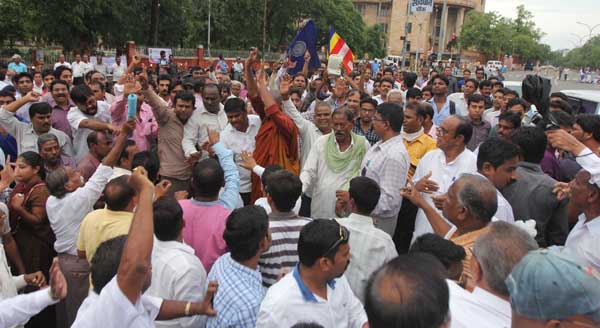 Watch Exclusive Video