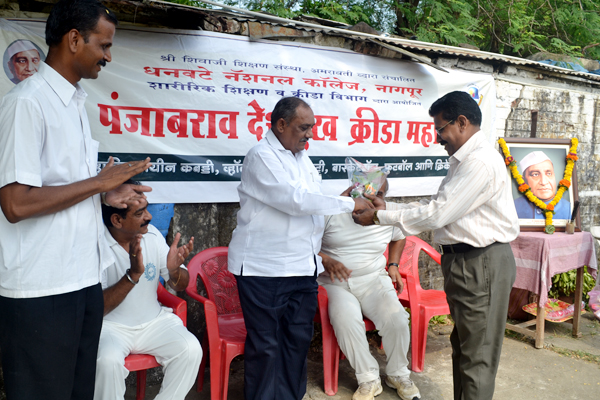 Nagpur News: The Shivaji Science College and Dr. Ambedkar College notched victories against IDCPE and VNIT respectively in the Football Tournament of Dr. Panjabrao Deshmukh Krida Mahotsava 2013 organised by the Dhanwate National College, Nagpur. Shivaji Science College defeated their rival by a narrow margin of 1-0. However, Dr. Ambedkar College carved out an easy victory against VNIT with score standing at 4-1.
FOOTBALL:
Today's Results
1. Shivaji Science College Beat IDCPE 1-0
Abhishek Tukalvar 37th Min.
2. MWSSM Beat Dr.B.A.Colleg of Eng. 4 -0
Naveed Akhter 5th & 35th Min., Moshin Khan 8th Min.,Rashid Ansari 40th Min.
3. Dr. Ambedkar College. Beat VNIT 4 – 1
Sagar Chinta 20 Min., Yogesh 35 Min. Najesh Ali17 Min.
Navin Kanojiya 38 Min.Shankar Pilai 40th Min.
4. SFS College Draw with ASC Koradi 1 – 1
Pranay Lamghare 2.05th Min. Rakesh Bharati 2.45th Min.
5. Gurunanak College Beat DNC 3– 1
Dharshan Karonde5th Ashish Umale ,38th Min. Dhiraj Awale 30th Min
Harsimran Lamba,15th .
6. S.K.Porwal Beat Abha Gaikwad Patil 7– 0
Fahad Junaid 05th Min., Shakib Ansari 06th, 20 Min., sushant Mujumdar 07 Min., Shakib
Ansari 32th Min, SandeepDevnath39,Yasin Ansari 58th Min.