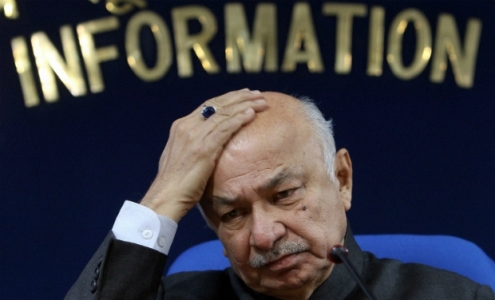 Nagpur News.
Yet another remark row fuelled on Sunday when Congress leader and Union Home Minister Sushil Kumar Shinde's commented that BJP and RSS are running terror camps countrywide. Shinde's blunt remarks spark controversy with the BJP and RSS leaders in Nagpur warned of serious repercussions if Shinde does not apologize for the same.
BJP MLA Devendra Fadnavis said that Congress has now sunk in corruption to such an extent that its leaders are now coming up with mindless speaking tactics. The deliberately fueling words that Shinde uttered at Chintan Shivir in Jaipur only shows his desperation of wiping out the stain of corruption from his party and deviating people's attention from the scams his party leaders have committed.
State unit BJP Chief Sudhir Mungantiwar said Shinde's irresponsible comments would only equip the terror groups to play the blame game. The baseless allegations that Shinde has leveled on BJP-RSS would boomerang in the elections. People will teach them the right lesson, he quipped. He also warned of agitation of party workers from across the nation if Shinde does not come up with an apology.
RSS observor Dilip Devdhar termed Shinde's statement as the tactics to please their leader Rahul Gandhi. Yesterday, Mani Shankar Aiyyar made such comments and today Shinde has backed his voice in similar tone, Devdhar said, alleging that it was the terrorists created by Congress who killed over 4000 Sikhs in 1984 riots post the assassination of Indira Gandhi.
Senior BJP leader and NMC's Standing Committee Chairman Dayashankar Tiwari said that Shinde would repent in the long run for the statement as sensitive as this. Congress should be ready to bear the brunt for hurting the sentiments of Hindu populace across the nation.
Addressing the Congress chintan shivir earlier on Sunday in Jaipur, Shinde had accused BJP and RSS of conducting "terror training" camps to spread saffron terrorism in the country.  "Reports have come during investigation that BJP and RSS conduct terror training camps to spread terrorism … Bombs were planted in Samjhauta express, Mecca Masjid and also a blast was carried out in Malegaon," Shinde had said.
Later Shinde also added, "This is saffron terrorism that I have talked about. It is the same thing and nothing new. It has come in the media several times."