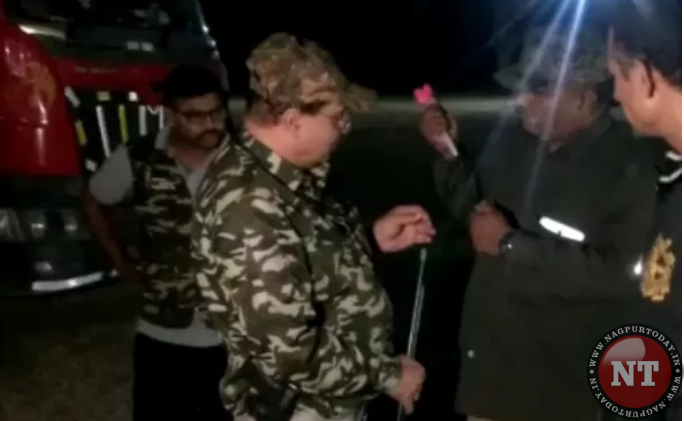 YAWATMAL/NAGPUR: Left with no other option, Forest Department has to call back sharp shooter Nawab Shafath Ali Khan from Hyderabad to lead the ongoing operation for menacing T1 tigress in Pandharkawda Forest Division in Yavatmal district despite widespread criticism by wildlife lovers and section of media.
According to sources , Nawab joined the operation on Sunday and surveyed the field in an attempt to locate the animal. The beast killed 13 persons from Pandharkawda and Ralegaon tehsils in last two years. The department had launched the tranquilising operation after January 29, 2018 and then full-fledged search from September 12 after the verdict by the Supreme Court.
However, despite deploying around 200 persons in the operation and 5 elephants, the teams could not get even a glimpse of the problem tigress so far.
Meanwhile, the operation took a twist when 'Gajraj' an elephant brought from Tadoba-Andhari Tiger Reserve, broke the iron chain tied with at the base camp on Wednesday and went berserk. The jumbo killed a woman, grievously injured an elderly person, damaged huts, toilets, boards, crops and ran amok on Nagpur-Hyderabad Highway. Nawab was called previously after launching of the full-fledged operation on September 12. He headed the teams for a couple of days and then went on leave on September 20 on account of muhurram.
In view of widespread criticism by wildlife lovers and media against Nawab being a sharp-shooter, was kept out of the tranquilizing operation till now. Two veterinarians from Madhya Pradesh Dr Akhilesh Mishra and Dr Sandeep Agrawal left the operation due to reported high-handedness of Nawab during the operation. Two new doctors, also from MP, joined in but without getting any success they also left the operation.
Following incident of the elephant, the department held a meeting at Umari Rest House on October 3 at night in which it was decided to again invite Nawab for the job. Even after considering the plea of wildlifers, the department, having limitations, felt that there was no solution in sight and why not take benefits of the expertise of Nawab. Shooting the big cat is last option for the department. Therefore, the department called back Nawab to tranquilise the problem tigress.
Problem tigress kills another bait
After killing a horse kept as a bait in Aajni two days ago, the problem T1 tigress has again killed another horse in the same area on Saturday morning. The tigress appears to be cleverer than the teams because also she made her good escape yet again. The baits are kept to attract the problem animal with forestmen keeping watch on it to exploit the situation. It is surprising as to how nobody could get a hint about the beast making another kill?