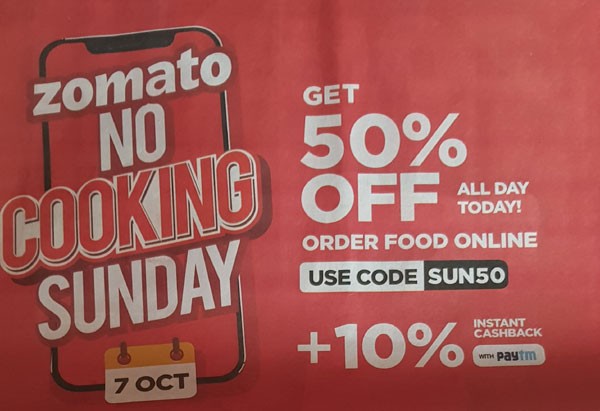 Nagpur: Constant buffering, no price match, dead slow progress, and invalid code… Perhaps this is what most of you have on Sunday experienced on Zomato, the app-based food delivery company, which claimed 50% off on every order for the day along a fixed price combo meals from few of its partner restaurants.
Yes! Zomato erred it yet again.
Zomato rolled out No Cooking Sunday offer on Sunday and placed a full page advertisement to reach out to its users.
As Nagpur Today strolled through the offers claimed in the ad, and cross checked the same on its application, none came as real. Instead the concerned restaurants were showing usual prices, despite applying the code.
For instance, Zomato's advertisement claimed that a combo of butter chicken, naan and plain rice from a restro name Mini Punjab would be offered at Rs 69, while the price of Rs 220 for the same was struck off. Similar price of Rs 69 was also claimed for combo meals of other restaurants like Jog Hospitality, Bulas Kitchen and Fuel Station Cafe & Restro. As Nagpur Today checked for these prices in Zomato's app, there was no trace of it in any of the restros' menus. It kept showing regular prices which stood nowhere near Rs 69, even after applying the code SUN50 as given in the ad and also in app.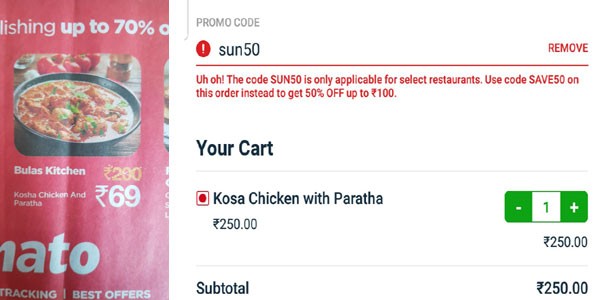 Invalid Code
Most of the users were left distressed as the Zomato app experience on Sunday was disgusting. While the app kept buffering for the entire day and remained dysfunctional for most of the time, the users had the harrowing time as they saw the code SUN50 apparently came as invalid. This frustrated the users even more as they could not get through their orders despite waiting for too long.

A dubious track record
An aggrieved user annoyed at the price mismatch under No Cooking Sunday offers said, "Zomato has certainly become synonymous to distrust and fake, when it comes to redeeming codes or availing any offer while ordering food.
Earlier too, it came under the clouds for the glitch in its 1+1 free offer on its Gold membership as the restaurants kept tricking the customers with two menus – one with regular price while the other for Zomato's Gold members who ended up paying double the price of their ordered food in order to avail the offer."