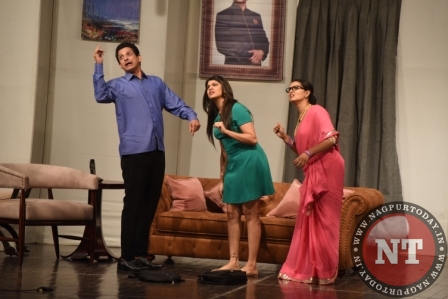 Nagpur Round Table 83 has organised the much awaited happening of the city. The tablers have successfully conducted Sharman Joshi's superhit Hindi comedy play 'Raju Raja Ram aur Main' at Suresh Bhatt Auditorium recently.
Inspired by Marathi play, 'Sahi Re Sahi', Raju Raja Ram aur Main narrates a story of industrialist Madan Sukhnandani (Sharman Joshi) who catches his second wife red-handed with her lover. The lover is none other than Sukhnandani's P.A. Mr.Dalal , While the wife and P.A. are caught red-handed Madan falls in their trap and gets killed. The duo is successful in displacing the corpse and gets an imposter to get the property transferred in the wife's name but Sukhnandani's write his will on the name of his both wife and his Uncle who took his care at the earlier time. How various situations give birth to comedy forms the root of the story.
Prominent members of NRT 83 along dignitaries attended and relished the wonderful histrionics by Sharman Joshi, along with their family.
Aayush Kadu, a student who also came to watch the play said that it was amazing experience to watch such an interesting play of the most versatile actor, "I personally enjoyed his (Sharman's) comic timing", he added.
Purvi Singh, a homemaker, says, "The way Sharman Joshi entertained us cannot be forgotten. I am amazed that how single man can so convincingly play four characters at the sametime, because one has to be in different situation while portraying every character. But this man did it, Thanks to Round Table 83."
Pics by Rajesh Bansod
By Farhan Kazi