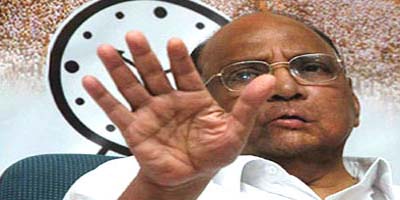 Nagpur News: Table seems to have turned for Vidarbha as replenished demands for according statehood to the region are now being emerged from the political bigwigs who were once averse to the idea. Nationalist Congress Party President Sharad Pawar has been one of them who opposed the separation of Vidarbha from Maharashtra tooth and nail but his recent stand on the issue narrates the either side of the tale.
In his bid to consolidate his party's diminishing vote bank in the region, Pawar has strike the chord with the region's people by saying that his party would not oppose statehood to Vidarbha. However his statement came as rider – "But I will respect the sentiments of the people in the region," Pawar said this while speaking to a business journal.
Poll pundits view Pawar's u-turn as the refurbished poll strategy in the run up to parliamentary and Maharashtra assembly elections slated for 2014. Pawar has also openly supported the statehood to Telangana.
Currently, of the 62 assembly seats in Vidarbha, NCP won 5 in 2009 elections. Union minister Prafull Patel is the lone NCP member from the region elected to Lok Sabha. He won the seat during last general elections.
At the same time, NCP chief has tried to rub salt on the wounds of Congress which is unable to take a final call in the regard in the wake of lack of efforts to mobilize people in Vidarbha and also achieve political consensus. Similarly, he has attempted to further widen differences between BJP and Shiv Sena on this issue.
BJP, which has been in favour of a separate Vidarbha, has so far miserably failed to galvanize necessary support and also bring its over two decade old electoral ally Shiv Sena on board. Shiv Sena is opposed to statehood for Vidarbha while Maharashtra Navnirman Sena (MNS) has yet to open its cards on the issue.
Pawar's timing is crucial when Vidarbha has been in the news for coalgate, multi-crore irrigation scam and farmers' suicide. More recently, BJP's former president Nitin Gadkari, who hails from Nagpur, shot into limelight for alleged irregularities relating to Purti Group of Industries founded by him.
Besides, a section of Congress including party general secretary and former minister Vilas Muttemwar have been quite consistent in opposing development of power projects with total generation capacity of 68,000 MW in the coal rich Vidarbha region and not in the rest of Maharashtra.
Muttemwar told this journal, "We have faith and confidence in the Congress leadership. We are quite hopeful that the party will take a proper decision in the larger interest of Vidarbha."
However, state party spokeman Ratnakar Mahajan said Pawar's statement has been quite consistent with his stand since his days in the Congress party. "So there is no need to further read into Pawar's statement," he noted.
NCP state spokesman Nawab Malik said his party has been in favour of smaller states.
BJP legislator from Nagpur Devendra Phadnavis reiterated that his party has 100% commitment for statehood for Vidarbha. "Ironically, Congress and NCP have been opportunistics on the issue. Let Pawar extends tacit support for Vidarbha state alike Telangana, I will be the first to garland him. Our party will support him."
Sena's group leader in the state assembly Subhash Desai however, declared that his party favors united Maharashtra and would continue to strongly oppose statehood for Vidarbha.