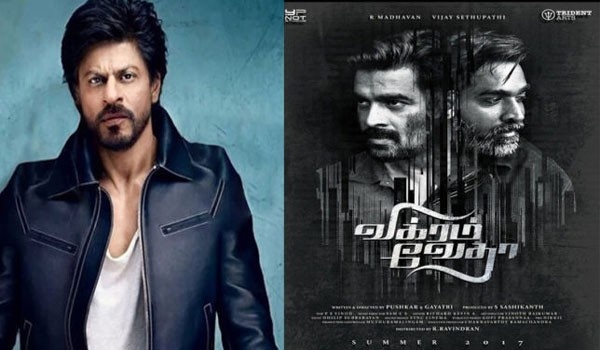 All Shah Rukh Khan fans can finally rejoice for it's finally happening. The actor has ultimately given his nod for the Hindi remake of 2017 neo-noir Tamil drama, Vikram Vedha starring R Madhavan and Vijay Sethupathi in the titular roles. Yes, we did hear reports of SRK being in talks with the makers for a remake but things didn't work out in his favour. According to our sources, Shah Rukh wanted two major changes in the script, but the makers were unwilling to accommodate them initially. However, after Neeraj Pandey acquired the remake rights, seems like his conditions were eventually fulfilled and the director cum producer was keen on casting him in the same. Wondering what two major changes we are talking about? Here they are…
Change in character
When Shah Rukh Khan was earlier offered the role of Madhavan in the remake, he insisted that he would like to play Vijay Sethupathi's part instead. The makers then, were hesitant to cast him in the same. They wanted him to play the lead and not otherwise. SRK however, was extremely adamant and he refused to budge. It was only after Neeraj Pandey came on board that he thought the Zero actor will fit the mould and would suit the character aptly. Now according to our sources, Shah Rukh is essaying Vijay Sethupathi's role and R Madhavan will play his own character in the remake as well.
Change in director
Soon after Neeraj Pandey acquired the remake rights of Vikram Vedha, there were reports speculating that he will soon start shooting for it and the original director duo, Pushkar and Gayatri will be retained. However, Shah Rukh wasn't too pleased. If Neeraj was producing the movie, he wanted him to direct as well. Though the makers haven't officially announced it yet, there are high chances that Neeraj will don the director's hat once again and SRK- Madhavan will finally collaborate on this project.