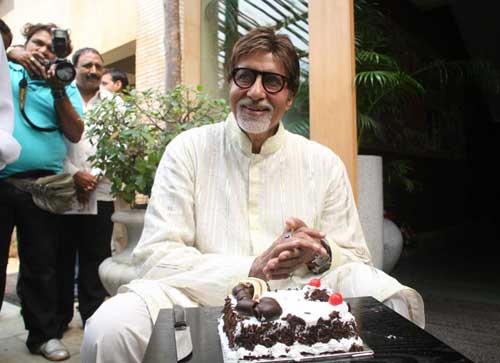 Having acted in over 180 films in the last four decades and being active on the small screen as well, megastar Amitabh Bachchan, who will turn 70 soon, feels he is not overworking himself.
Amitabh Bachchan is one star who remains connected to his worldwide fans through the online medium — his blog and Twitter, and even through his voice blog.
There is a huge buzz around Amitabh Bachchan's 70th birthday, which falls on Oct 11, but for the megastar, it's "just another day".
"A million interviews, a million good wishes and a million desires of continuance… birthdays at 70 seem special to some. Just another day for me," tweeted the 69-year-old veteran.
These days, he is busy meeting media persons for interviews, sharing insights and experiences of his life. Big plans are in store for his birthday, and his wife Jaya Bachchan, has reportedly planned each part of the celebrations including painting and poster exhibitions.
Jaya Bachchan has commissioned an art exhibition to mark Amitabh Bachchan's 70th birthday.
Entitled 'B Seventy', the two-day exhibition will feature artwork created by 70 Indian artists from around the world, offering their interpretation of the veteran actor and his career Nagpur Today reports.
Piyush Pandey, who devised the concept for the exhibition with Jaya, said: "Each piece of art that you will see in this book, is a tribute to Mr Bachchan by some of the greatest artists of India. Each piece of art carries a little bit of their heart. Each unfurls a layer of the multi-layered personality of Mr Bachchan."
The artwork has been compiled and published in a book offering insight into each of the paintings and the artist's interpretation of Bachchan. The exhibition includes works by artists such as Anjolie Ela Menon, Akbar Padamsee, Badri Narayan and Satish Gujral.
A preview will be held at the Nehru Centre Gallery on Amitabh's birthday and all proceeds from the exhibition will be donated to a charitable cause.
The actor recently said that while he has conceded to his family's wish to celebrate his birthday in grand style, he regards it as just another day.
Aamir Khan is among the actors, dignitaries and politicians who will be attending a formal dinner in honour of Amitabh.
Suhani Vanjani