Shadi ke Side Effects : Movie Review by Prashen H. Kyawal

Shadi ke Side Effects : sequel ke side effects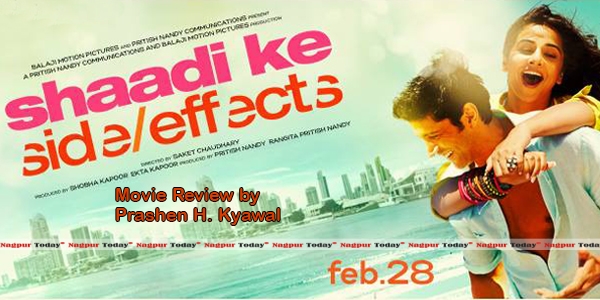 Few are sequel movies are better or even as good as its first instalment. "Pyar ke Side Effects" was a very high quality product which is an example of good urban love story in Bollywood. It also was one of the first movie to start trend of unique and unusual pairing of lead actor and actress. Pairing of the mallika of a Bombshell image, Mallika Sherawat with the crusader of cinema of substance, Rahul Bose, created ripples at that time. They both did justice to their roles and along with the script, direction and music, that filmedwas a great success.
The producers of the original movie "Pritish Nandi Communications" aka PNC, this time joined hands with Balaji Motion Pictures to come up with sequel for the earlier blockbuster. This time the actors are even bigger i.e. Farhan Akhtar and Vidya Balan play Sid and Trisha. Sid and Trisha has rocking chemistry and love story which happily gets converted into marriage. They both are enjoying their youthful and promising life and are looking forward to next steps in their careers. But destiny has some other plans and they get the news that they are going to be parents. Sid really tries hard to take care of Trisha and be an understanding husband. However, once the baby girl "Mili" arrives, their life changes drastically. Sid starts missing the happy-go-lucky, fun loving Trisha who turns into a nutcase taking care of her baby. Her perspective totally changes and she sees life only from Mili's angle. Sid gets fade up and shares his problem with Trisha's brother-in-law Ranvir (Ram Kapoor). Ranvir gives him a weird but effective solution which brings back happiness in Sid's Life. What happens after that shall be watched on screen.
The story is simple and sweet like the 1st Film. However, what made "Pyar ke side Effects" fun was the screenplay, characterisation and overall treatment. Saket Chaudhary who had written and directed the earlier film, has come up with this story in collaboration with Zeenat Lakhani. He has also penned the screenplay with her and Arshad Shayed who has also taken care of Dialogues. Smart, Witty Humour which does not make you laugh your guts out but keeps a continuous smile on your face, was the strength of PKSE. With a 3 people team, SKSE failed to achieve that level but still keeps the audience interested.
Saket has made his earlier film lively by a sharp, urban and stylish presentation of it. This time, he has failed to keep that innovation in the narrative. A small story has been stretched to 2 hr 25 min. A crisp 2 hr duration would have been much better for the movie. Having said that, he is able to keep the on screen proceedings interesting with sprinkling of humour which makes the film a good once a watch.
Performance wise Farhan Akhtar delivers what is required out of him. He is loveable as loyal husband who also wants to live his youthful life as it was before being a parent. However, as per his on screen life, audience too get to very less of Vidya as the story is written completely from Sid's Point of view. In a way, does it prove that the writers did not find anything interesting in a woman's life when she is engrossed in early development of her child? Vidya does her job couldn't leave a mark. In fact, there is not much to take away in both lead actors role in this film.
Best part of the movie is Manav (Vir Das) who adds some masala to the movie. Ram Kapoor impresses with his controlled performance. Purab Kohli as Shekhar is apt. After long, we get to see Gautami Kapoor as Ranvir's wife. Most cute and lovely baby actors are baby Anushka Gavad, baby Mahi Bhanushali, baby Aayra Mehta, baby Angel Fernandes, baby Pranjal Parab and baby Hetavi Bhanushali who play Mili's character in different ages.
Music by Pritam misses the mark this time. Barring 'Harry's not a brahmachari' and 'Tauba main vyah karke pachhtaya', not other song lingers in our mind. Manoj Lobo and Rishi Punjabi has done good work in cinematography. Production quality is top notch.
Overall, it is a good film which couldn't be a great film.
Rating :

Recommendation : It is a clean film to watch with whole family. If you are a movie buff who can't miss a movie, do watch it. Though a little bit stretched, you will enjoy it.But if you are the kind demanding every worth of the penny, prefer to watch it on Cable/DVD.
Directed by Saket Chaudhary
Produced by Ekta Kapoor, Shobha Kapoor & Pritish Nandy
Written by Saket Chaudhary
Starring : Farhan Akhtar, Vidya Balan, Ram Kapoor & Vir Das
Music by Pritam
Showtimes
Pvr Empress City Mall
empress city mall, opposite raman science centre gandhi sagar lake, Nagpur
9:00 10:00 10:55am 12:00 1:00 2:00 3:00 4:00 5:00 6:00 7:00 8:00 9:05 10:05 11:00pm
Cinemax Eternity Mall
eternity mall, variety square, sitabudi, Nagpur
9:30 10:15 11:00am 12:30 2:00 3:30 5:00 6:30 8:00 9:30 11:00pm
Jaya Shree
near lohapool, cotton market, subhash road, Nagpur
12:30 3:30 6:30 9:30pm
Rajvilas Cinema
nagpur mahal, Nagpur
12:30 3:30 6:30 9:30pm
Inox Tuli Mall
kamptee road, nagpur, Nagpur
9:30 10:30am 12:30 1:30 2:20 3:30 4:30 6:30 7:30 8:30 9:30 10:30pm
Inox Poonam Mall
poonam mall, Nagpur
9:00 10:15am 12:00 1:15 3:00 4:15 6:00 7:15 9:00 10:15pm