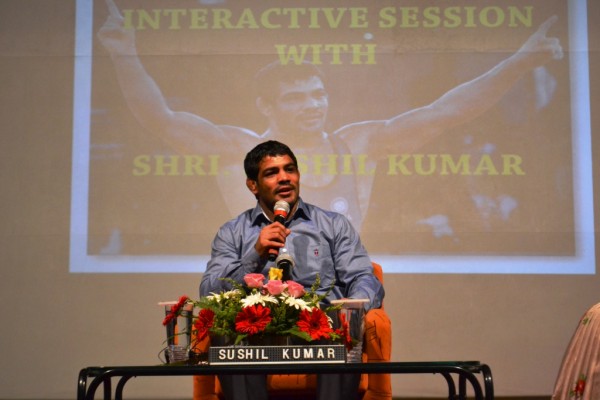 Nagpur News: Sushil Kumar, the silver lining of Indian sports visited National Academy of Direct Taxes today. He was welcomed with a floral bouquet. A video prepared on his achievements was also shown. Rajesh Sharma and Anjali Pokhrial interacted with Sushil on his journey from Najafgarh to the London Olympics.
Among all the games, why did you choose Wrestling ?
Sushil: Namaskar, I am very honoured to be with you all. I keep getting calls from everywhere but I don't always go because I am very busy with my workout schedule. But when I was called by NADT, I simply couldn't refuse. I am wrestling since childhood. I didn't even know about Olympics or Asian games. Then my grandfather introduced me to the National and international scenario. That's how I came to know about the opportunities I would get to do my nation proud. I was put into wrestling since childhood. I have been following a strict and disciplined regimen. I love the game. So I am a wrestler.
How has your journey been from Beijing to London? You promised you will get at least a Silver in the London Olympics and you lived up to it. How do you feel?
Sushil: After 56 years, India got a medal for wrestling. I am the first Indian World Champion. I am very elated. I had a chance of winning one in Athens. I missed it. I got a bronze in Beijing, I wanted to do better. I was confident of myself. I had put in that effort. I increased my schedules of workout and training. The journey has been good. I feel sad that I was so close to the Gold medal and I missed it. But then I felt proud that I won a medal for the Nation.
Whom do you give credit for your achievements?
Sushil: My Parents. My father is a driver with MTNL. My Mother is a housewife. She gets up at 5 in the morning, milks buffaloes and works very hard.  My friends and relatives have always supported me. My Coach. I have done good for the country because I received support from all of them.
What are your strengths in wrestling?
Sushil: My plus points are my tactics. I try and make sure that my opponents make errors. I make them use more energy and force. I use less. I have to play a smart game. Mental strength and tactics are my plus points.
 Any improvements in Indian sports?
Sushil: Yes! Facilities and avenues. China never got major medal hauls before. It started a few years back. (around 1984). Whenever they are prepare, they prepare at a war footing.  For NADT – You will handle administration of this country in future. Please do something for sports too. Just like China then we too will win medals. There are no wars and battles now. The only fight is that our national anthem should play at the global level.
Despite being a vegetarian how do you manage the diet, schedule and workout?
Sushil: I eat whatever I get. I have no whims and fancies. I just focus on my power and speed. I have to maintain 66 kg. I never decrease my work schedule, I always increase it whenever possible.
Wrestling is an aggressive game. How are you so cool?
Sushil: My Guruji and my parents have always given me good values. They always taught me to be a good man. Hence I remain cool.
Quite a lot sports persons are on TV nowadays. Are you planning to make a debut?
Sushil:  I see many people being taken in for commercials. "Jaise humare vijendar ko le gaye".  My only target is to get a medal for the country. Nothing else.
After your matches, do you sit and watch the highlights and rework on your techniques?
Sushil: Yes. I try and change my techniques every time after an event. It is important. I learn from my previous moves, errors, positives etc.
What are differences between Indian and international wrestlers?
Sushil: We strive harder. We practice longer. But facilities are less. Just a little more and our wrestlers will beat everyone the way previously Iran was reigning. I defeated the Iranian World Champion in my first match. So in the same way all our players are developing.
Do you play any other sports?
Sushil: Yes. But only for recreational purposes. I like to play Basketball, Football, Volleyball etc.  We should play one game each morning. It's very important to take time out for us. I watch less movies. I tell our Guruji before even moving out of the stadium or Akhada. The Akhada is very strict. We have to be disciplined. I got a mobile phone only after Beijing Olympics. We have to be very serious with our workout and schedule.
What is your schedule?
Sushil: I get up at 4 in the morning or according to the coach. If at any international level's game then 4 hours of training is put in.
What should be a wrestler's quality?
Sushil: It is a close game, man to man. Mentally preparedness is the most important quality. Of course you have to be fit but then you have to be mentally strong as you have to make decisions in split seconds.
U like paranthas very much.  . . .
Sushil: Shaadi ke baad ghar se updown karta hoo. Mummy ke haath ke paranthe tabhi milte hai. Earlier I used to visit home once in a month or once in 2 months. My schedule of workout and training takes up most of my time. I get very less time to eat paranthas.
Cricket is given more importance than other sports. Do you have to say anything about it?
Sushil: Cricket is also played for the country. I don't want to comment. But, the fact is that the body that governs cricket in India, presents and promotes them very well.
The house was then open for questions. The audience present wished Sushil success and good health. Members of the Nagpur Wrestler's association were also present who later felicitated Sushil and requested him to promote sports like Wrestling. Sushil was presented with a memento by the NADT family.