Impressive rally of folk and tribal artists taken out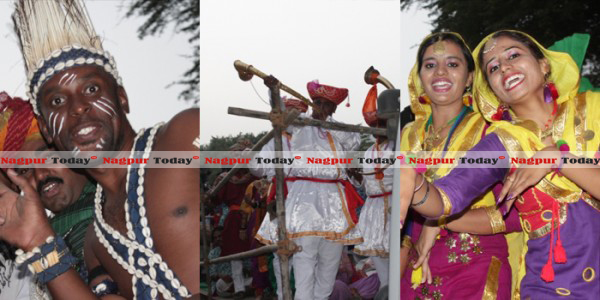 Nagpur Today.
Shrewd and skilled master craftsmen and national award winning folk and tribal artists from across the country are in the city to show their talents and skills at an event 'Maati Ke Rang' organized by SCZCC at Kasturchand Park, on November 10, 2013. A huge rally of 750 folk, tribal artists and craftsmen was taken out from SCZCC to Kasturchand Park Grounds. The dancers not only showcased their art for the road users but all those whom they passed by. The joy and pleasure of showcasing their talents and dances of their native land showed on their faces.
These artists were brought together by SCZCC centre at Civil Lines to participate in the silver jubilee celebrations of all the Seven Zonal Cultural Centres.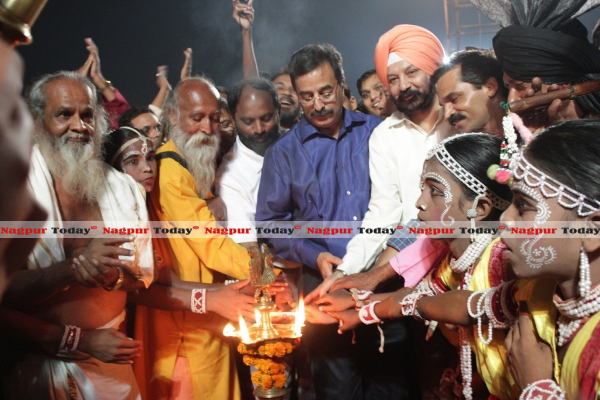 The celebrations would also include the exhibition and sale of handicrafts on the sidelines. The closing ceremony is scheduled to be held on November 16, said the Director of SCZCC Ravindra Kumar Singhal.
The entire venue at Kasturchand Park Grounds have been divided into seven courtyards, each allotted to a Zonal Cultural Center. They are designed to depict and showcase the art and culture of the individual states that they represent. Each of these courtyards represent a particular theme. The outer walls are painted with folk art murals unique to the states they represent.
Within the precincts are stalls which display handicrafts and attractive rustic  goods , attire, jewellery made of beads, plastic, bronze, copper and alluminium. Panels bearing Madhubani art of Bihar, Patachitra and Soura paintings of West Bengal and Odisha and Paitkar paintings of Jharkhand is depicted in the courtyard of East Cultural Zone. A live demonstration of the famed Paitkar paintings is said to be presented by National award winner Bijay Chitrakaar would be the added attraction. Stalls selling Kantha Sarees, silver filigree work, Dokra brassware are some of the other goods to be checked-out by city denizens.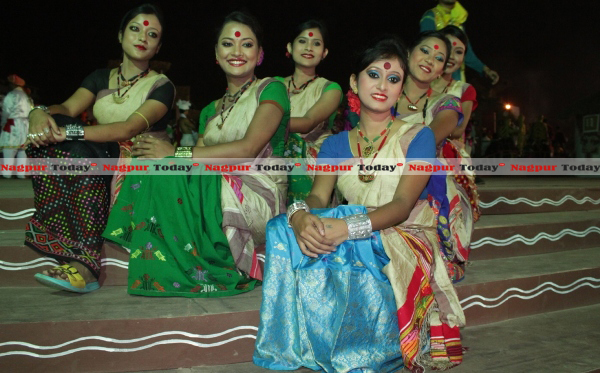 Programme Officer of Western Cultural Zone Dr Lalique Hussain was busy adding the finishing touches to the facade which resembles a Rajasthani Haveli.  According to him, "We have brought rare and vanishing craftsmanship from Rajasthan, Gujarat, Goa and two union territories".
Pichwai and Mewar art and temple frescoes along with an almost extinct art form of making copper bells are the highlights here," says Hussain. With the entrance made to look like Agra fort, North Central Zone courtyard holds 15 stalls which would exhibit the famed Banarsi saris, Chikankaari, brass ware and woodcarving work. Asif Miyan, the kite flyer who has designed more than 2,000 kites of different shapes and sizes, will demonstrate his craft. "National award winners Subhash Arora, known for the Dokra art, and Shanti Prasad Yadav, who makes Jaipuri quilts, have also come," says BS Asthana, the programme officer.
With the green colour as its theme, South Zone's courtyard is set to attract visitors with Kerala lamps and murals made by national award winning artist Srijeet.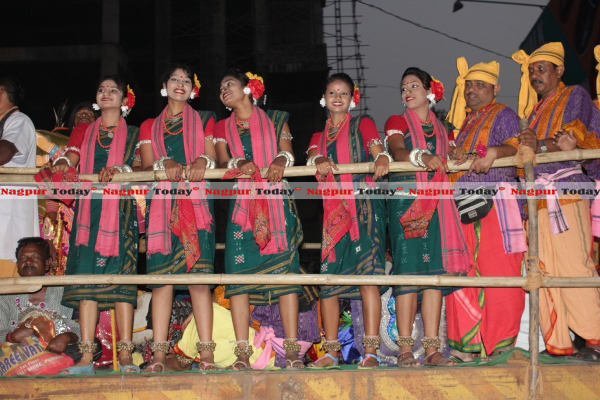 "The other attractions are from Thanjavur and Garudhadri paintings from Tamil Nadu and Karnataka, and sandalwood and stone craft," informs GM Nathan, programme manager.
The North Eastern Zone courtyard has created the ambience of a hill village with Chapli, an Assamese hut occupying the centre. "We have two gates one designed in Manipuri style and another in Naga style where Naga drums will beat," says Exhibition officer V Phesao.
The big eye-stopper is the mega stage with six levels erected for the dance performance on the final day.
"The entire theme is of village art as performers are drawn from small villages and hamlets of India," says Gopal Betawar of SCZCC, Nagpur. A fine blend of diverse cultures, the stage has replicas of gate arches of Punjab, Bil of MP showing bhiti chitra, a pagoda like facade made by Sikkim artists and ghotul of Chhattisgarh providing an artistic backdrop.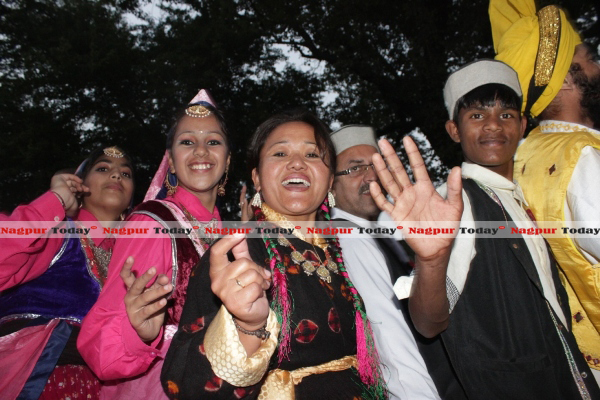 According to PRO SCZCC, folk and tribal dances  will be held everyday from 4:30 pm onwards from November 13 to 15. The grand finale will be held on November 16, 2013. Sources also said that the Chief Minister of Maharashtra Prithviraj Chauhan and the Governor K Sankaranarayanan may come to attend the function though confirmation from both have not been received as yet.