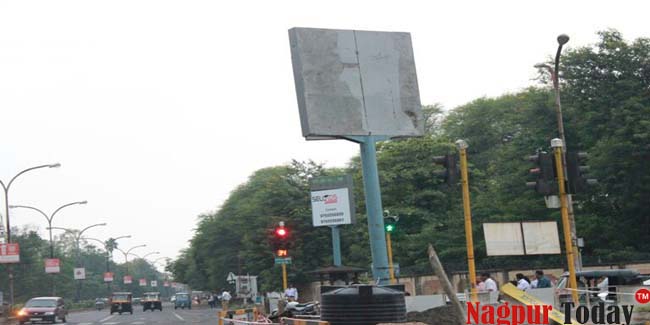 Nagpur News.
Even as the dust over the alleged evasion of property tax for Futala kiosks by Sell Ads was yet to settle, the outdoor publicity and advertising company in Nagpur has been mired into another controversy.
The agency which has been given contract to set up kiosks at Futala Lake by NIT was found to be evading service tax and other taxes for long and was recently served demand notes by NIT. Now the agency has again been caught in the eye of storm with their dazzling kingsize hoardings and pole ads leveled at various busy squares of Nagpur.
Citizens complain that these hoardings eclipse traffic signals, which is not only illegal but dangerous too. The ads completely blind the vehicle drivers and they find themselves helpless and in a dangerous situation. The situation at Shankar Nagar Square and Law College Square is quite evident. The citizens are even contemplating moving to the court against such blinding glitz hiding the traffic signals beyond visibility. The citizens have warned that if administration does not act timely they would be bound to drag the matter to court. Interestingly, the traffic police has also maintained mysterious silence over the current issue, sending clear indications of connivance.
According to a top NMC official, the contract given to Sell Ads for erecting kiosk or pole ads breaches the Outdoor Advertisement Policy of 2001. But still the administration overlooked the fine lines and went on to award the contract. The official asserted that the ads should not block traffic signals.
It may be recalled that the ad agency, the Mirage, had first initiated the move for the contract as per the First Finder system. However, the then NMC Commissioner Sanjiv Jaiswal decided to give the contract by inviting tenders in this regard. The Sell Ads quoted 6-7 times more than other bidders thus shattering the dreams of the Mirage Ad Agency. The episode saw two Ruling Party Corporators displaying their strength for managing the contract to their respective bidders.
The First Finder System in NMC has been controversial since it came into being. For this reason few former NMC Commissioners have revoked the system in Nagpur. But, sources revealed that the present Commissioner Shyam Wardhane has made his intentions clear to bring it back. The file has not reached to the Commissioner but sensing the uproar, Wardhane reportedly has put the process on hold till the matter gets cooled down. Then as per the planned strategy work orders would be issued.