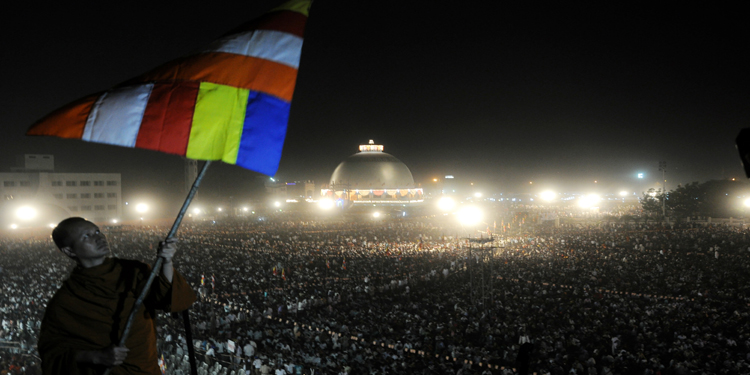 Nagpur News:  Function was organised to mark the `Dhamma Chakra Pravartan' day which commemorates embracing of Buddhism by Ambedkar.
The main programme of Dhammachakra Pravartan Din was organised by the Dr Babasaheb Ambedkar Smarak Samiti today on October 24 at Deekshabhoomi in the city were lakhs of people gathered.
Speaking at the occasion Minister for Social Justice Shivajirao Moghe informed that the Maharashtra government is committed to assisting in completion of a grand Babasaheb Ambedkar memorial here and required funds to the tune of Rs 1.5 crore would be allocated this year.
Chief Minister Prithviraj Chavan was also keen on early completion of the memorial which would be a magnificent piece of monument in Asia, he said.
The chief architect of the Constitution embraced Buddhism along with lakhs of followers at Deekshabhoomi here on October 14, 1956, which coincided with the Dussehra.
Funds will not be a constraint in completion of the work at Deekshabhoomi, he maintained.
Former Kerala Governor and Chairman of Ambedkar Smarak Samiti R S Gavai, BJP President Nitin Gadkari and Mayor Anil Sole were prominent among those present on the occasion.
Moghe, who also holds the De-Addiction portfolio, appealed to Dalit community members to shun liquor and remain focused on achieving the goals set by the late leader.
He said the Chief Minister has approved a grant of Rs 40 crore for setting up a museum of Ambedkar in Chicholi near here. The museum will house personal belongings of the Dalit icon which had been preserved by his aide Wamanrao Godbole.
Moghe called on followers of Ambedkar to not just worship his idol but also inculcate his teachings.
The Ambedkar-drafted Constitution has helped Indian democracy to not only survive but also thrive. This was in sharp contrast to some neighbouring countries, which saw instability and military rule, the Minister stated