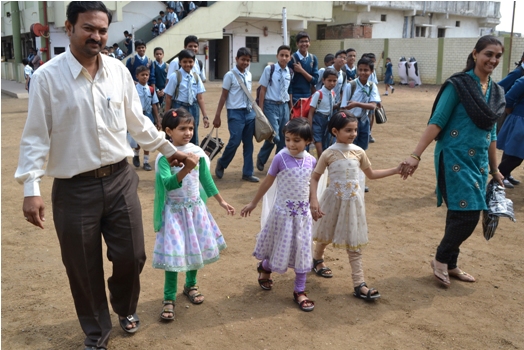 Nagpur News.
Nitin Sagale is a relieved man now free from worries of at least getting right education for his three daughters who were born triplets in Nagpur. An ITI passed Nitin is currently unemployed and looking for the job but he can now heave a sigh of relief that he does not have to bear the school expenses. His daughters got the admission under Right to Education Act.
In what could be the innovative way to proceed with the noble cause of providing free education to poor children, South Point School – located at Omkar Nagar on Manewada Ring road in Nagpur – started its admission process under RTE with the registration of these three girls.
Five and a half years old Anushri, Tanushri and Tejaswi never knew that as they arrived in this world, it was like a bolt from the blue for their father who had been struggling for livelihood.
Devendra Dasture, director, South Point School, informed that since their father belongs to very poor class of the society, he could not afford teaching his daughters in convent school. RTE came as a boon in disguise for him as now he did not have to bear the tuition fees for getting her daughters to school.
Dasture said that Nitin had come to their school and revealed his hardships and also his worries about how he would carry the responsibility of all his daughters. Nitin's wife is a house wife and currently does odd jobs to make the ends meet.
Focusing on the implementation of RTE in his school, Dasture said that the act has been proving a much useful tool in securing education for the children from underprivileged and economically weaker section of the society.
"Last year also South Point School filled up entire 25% quota under RTE and this year too we are looking forward to contribute our bit for the noble cause", Dasture asserted.