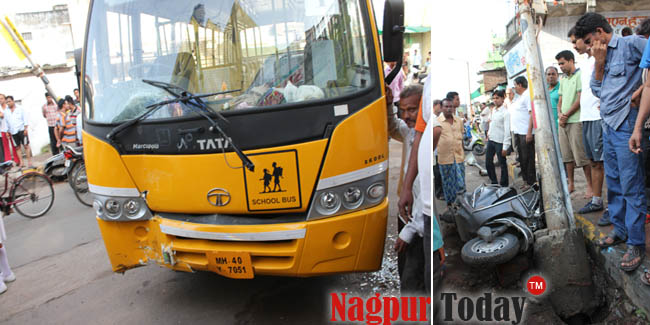 Nagpur News: A cyclist was critically injured when school bus, packed with school children, dashed him.
According to reports, the bus (MH-40/Y-7051) belonging to Mt Littraji School in Bhilgaon on Kamptee Road, was as usual was taking students to school. When the bus reached in Mahal area between Jhenda Chowk and Shani Mandir at about7.30 am, the bus hit an unidentified person riding a cycle injuring him gravely. The bus driver, sensing trouble, and even a good trashing from the angry crowd, which had gather at the spot, fled the spot leaving behind the bus and the students stranded. The students, too, had a narrow escape, according to eyewitnesses, could have turned turtle.
Kotwali police reached the spot and admitted the unidentified person to a hospital. The PI Jagtap is investigating the matter further.