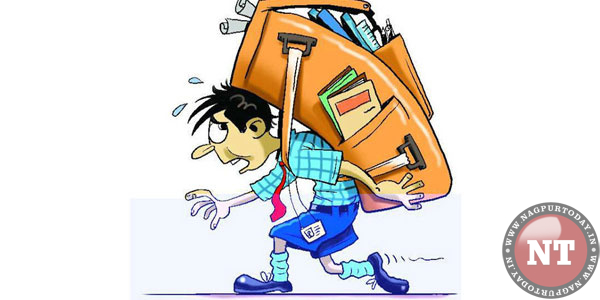 Nagpur : To overcome the problem of heavy schoolbags, a renowned school in Nagpur has advised its students to torn their books and bring only particular pages as per the class time-table.
The Central and State government had taken initiatives to reduce the weight of schoolbags of small kids. A few schools implemented it very effectively and succeeded in reducing the weight. However, in a bizarre incident, a renowned CBSE school based at Besa area has parents of its students to torn books and send only particular pages with their wards. Now the parents are in a fix as how to torn the expensive books?
Last year, a boy student had sat on a hunger strike at Samvidhan Square in Nagpur demanding to reduce weight of schoolbags. Following this, schoolbags were weighed in various schools and steps had been taken to reduce weight of schoolbags for small children. This year, however, the drive to weigh school bags has not been started yet.
The school has not only suggested to torn books but it also issued a detailed time-table as which part of the books be brought to the school on which days.
On the directives from Nagpur bench of Mumbai High Court, the education department had constituted a committee under the chairmanship of Director Education to suggest steps to reduce weight of schoolbags. The panel had found that the schoolbags were indeed too heavy and had directed schools and parents as well to take steps to reduce the weight.
RTE Action Committee chairman Mohd Shahid Sharif said the problem couldn't be solved with such illogical steps. He demanded concrete action from the State government in this direction.