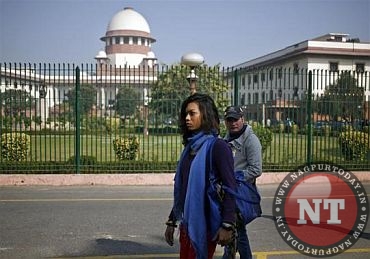 New Delhi: The Supreme Court has said that it will examine the correctness of its 2013 verdict that had set aside the Delhi high court judgment decriminalising gay sex.
The SC will examine fundamental right to life and to have sexual freedom.
A five-judge Constitution bench headed by Chief Justice Dipak Misra allows NGO Naaz Foundation to advance arguments in these cases.
"Curative petitions have limited scope and have to be heard by some other bench," it said during the hearing on pleas against Section 377 of the Indian Penal Code.
During the hearing, appearing for one of the petitioners, former attorney general Mukul Rohatgi said, "Section 377 violates one's human rights. The issue deals only with sexual orientation and it has nothing to do with gender."
"Issue of gender and sexual orientation are two different things. These two issues should not be mixed up. This is not question of choice," he said.
"This is a case of constitutional morality vs others. This case has a large ramification.
"As society changes, values changes, we can say, what is moral 160 years ago might not be moral today," Rohatgi said.