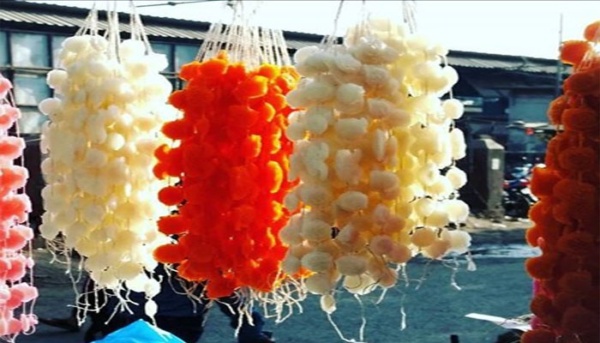 Nagpur: The sight of kirana shops and roadside vendors are swamped by Gathis (garland of sugary delight) heralds the colourful festival Holi is around the corner. This garland of sweet symbolises the significance of Holi and are offered with the intention of spreading love. Markets are flooded with plain and glittery Gathis that can be seen in every big and small kirana shop, sweet shop and at roadside vendors. And the sweet sight will continue to behold till Gudi Padva, the Marathi New Year.
A variety of Gathis in various sizes and shapes could be seen adorning market places. Two types of Gathis are genearrly available in market – simple ones and other made of battasa. This year, sugar being sold Rs 6 cheaper than last year, Gathis are being sold Rs 56 a kg in wholesale and Rs 75 a kg in retail. Of course, the rates vary from localities to localities. Last year, the rate in wholesale was Rs 62 a kg and Rs 80 a kg in retail. But who cares the rates. Gathi is a hit among young and old alike given its relevance and taste. While the most common Gathi is a garland of flower shaped sugar candies, bangle-shaped Gathis too are in huge demand. While the markets are full of various sizes of Gathis, some other parts of the city are busy with the production work of the same.
Generations are in the business of making Gathis. Karagirs (artisans) from far off places such as Kanpur, Lucknow, Allahabad and from other places descend in the city 20-25 days before Holi and prepare the sugary sweet in huge stocks. The sugar used in making the sweet is brought from Kolhapur-Solapur region. In the city, there are a number of small in-house manufacturing units situated in Shantinagar, Maskasath, Kawrapeth, Lalganj and other areas.
Gathis are made by boiling granulated sugar to a level that it dissolves. The scum that rises during this process is removed and the liquid is poured into moulds to set.
With Holi revelry at the doorstep, spread love by offering the mouth-watering Gathis not only to the near and dear ones but to one and all in keeping with the true spirit of the festivity.