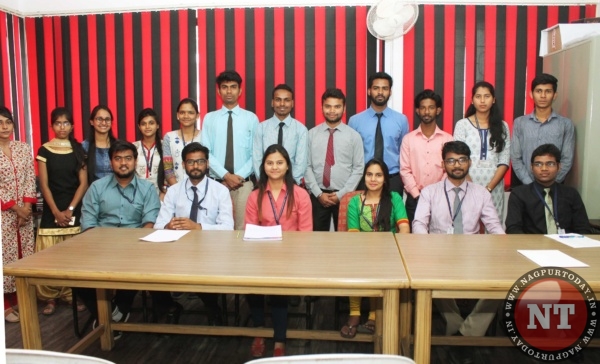 Nagpur: Aegis is the flagship event of Entrepreneurship Cell of DAIMSR (E-Leap), which has been established by a group of entrepreneurial students of the Institute. It aims to bring together Budding Entrepreneurs, Academicians, Venture capitalists, Investors, Industrialists, Researches and the students on a common platform and share their endeavors and experiences.
Aegis 2018 is divided into two sessions; the first session on Intrapreneurship aims "To provide insights of how Innovation and Entrepreneurship can be deployed by employees serving organizations in various capacities." The focus will be on understanding, how employees of firms can demonstrate and use innovation at the workplace & how the concept of "Intrapreneurship" is shaping the modern Business organizations. Whereas the second session – workshop on "Business Ideas",aims at converting business ideas into reality is planned in post-lunch session.
Eminent personalities from different sectors are invited as speaker for the session. Vishal Agrawal, Director – R C PlastoTanks & Pipes Pvt Ltd.- Manufacturing), LaxmikantPathak (Artificial Intelligence and Machine Learning based solutions for Enterprises from Banglore – IT Consultant),VivekThakkar (Freelance Consultant & Trainer, Owner at Punit Super Bazar-Organized Retail) and,SudhakarAtre (Ex-Banker-BOI).
Students interested in learning intrapreneruship& budding entrepreneurs from different colleges of the city are registered for the programme. The Audience shall comprise of Undergraduate and Post graduate students from programmes including B.Com, BBA, B.E, MCM& MBA.We are expecting an audience in the range of 220 to 250 students.
Dr. MujahidSiddiqui, Co-ordinator E-Leap, stated that, "We would like to change the perception of Employment in young minds. They should understand and be aware of the importance of Intrapreneurship and Innovation at their workplace. At the same time they should leave up the false expectation of 9-5 or 6 of job and make up their mind for dedication, commitment and belongingness towards their organization".
E-leap, the Entrepreneurship Center of Dr. Ambedkar Institute of Management Studies and Research, Nagpur, has been established by a group of innovative and business minded students of the Institute to create a group of young entrepreneurs.
E-Leap moulds, nurture, motivate, train & help the innovative students to convert their dreams of starting their ventures into reality. It also helps them in improving their leadership qualities. It's a platform to convert the innovative ideas into paper, performing a feasibility study, designing business model, arranging finance, marketing and creating brand.
E-Leap Members who were present for the Press Conference were Neelam Trivedi, Nilay Badge, ShubhamvShinde, AdityavKathane, Vedanti Kadoa, Arnab Ghosh. Further details of the event can be obtained from Ankit Abad (Co-Founder ADVAMPS Consultancy Services) 9860047428 and Prof. Ajay Gidwani (Advisory member, E-Leap, DAIMSR) 98234 87240.