Sardar Bunti Chaudhary's hoarding triggers protest from local MNS leaders in Nagpur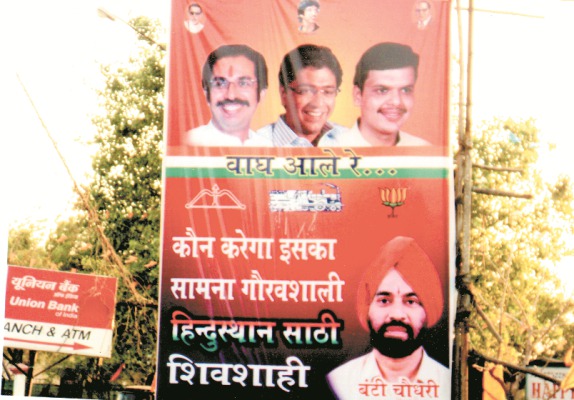 Nagpur News : The hard-core Shiv Sena leader Sardar Bunty Chaudhary's unique hoarding put up in front of TV tower, near LAD Girls' Hostel in Seminary Hills with combined pictures of Uddhav Thakre, President of Shiv Sena, Raj Thakre, President Maharashtra Navnirman Sena, and Devendra Fadnavis, President of Maharashtra unit of Bharatiya Janata Party with respective party symbols which stressed coming together of Shive Sena-BJP and the MNS  to throw out Congress-NCP Government  in Maharashtra has not gone down well with local MNS leaders and workers. The hoarding has triggered a panic of a sort and a strong protest from  senior as well as young activists of the MNS  who think their importance would take a severe beating if the MNS joins hands with the of Shiv Sena-BJP alliance.
Sardar Bunti Chaudhary, who was "advised" and "threatened", too by MNS men, has apprised them of his positive thinking and good intention the message has given to all citizens who wish to dump the NCP=Congress alliance Government which is ruling since past 10 years. He further told the MNS leaders that he himself and thousands of other Shiv Sainiks feel that MNS should come under a same roof by joining the Shiv Sena-BJP alliance and greatly strengthening the alliance in order to kick out the present ruling parties. However, the adamant MNS leaders and workers refused to accept Sardar Bunti Chaudhary's feelings and good intentions. Instead, they warned him that the hoarding would be torn apart. However, the hoarding vanished mysteriously from the spot in the night hours. But Sardar Bunti Chaudhary was not disappointed by the fact and thundered that the hoarding has given a strong message of the need of the hour and hoped the day will come and sanity would prevail in future when the MNS, too, will understand the importance of the unification.
Related News: http://nagpurtoday.in/sardar-bunti-chaudharys-unique-hoarding-gives-message-to-dump-congress-ncp-government/